8 Tips and Strategies for B2B Lead Generation in 2022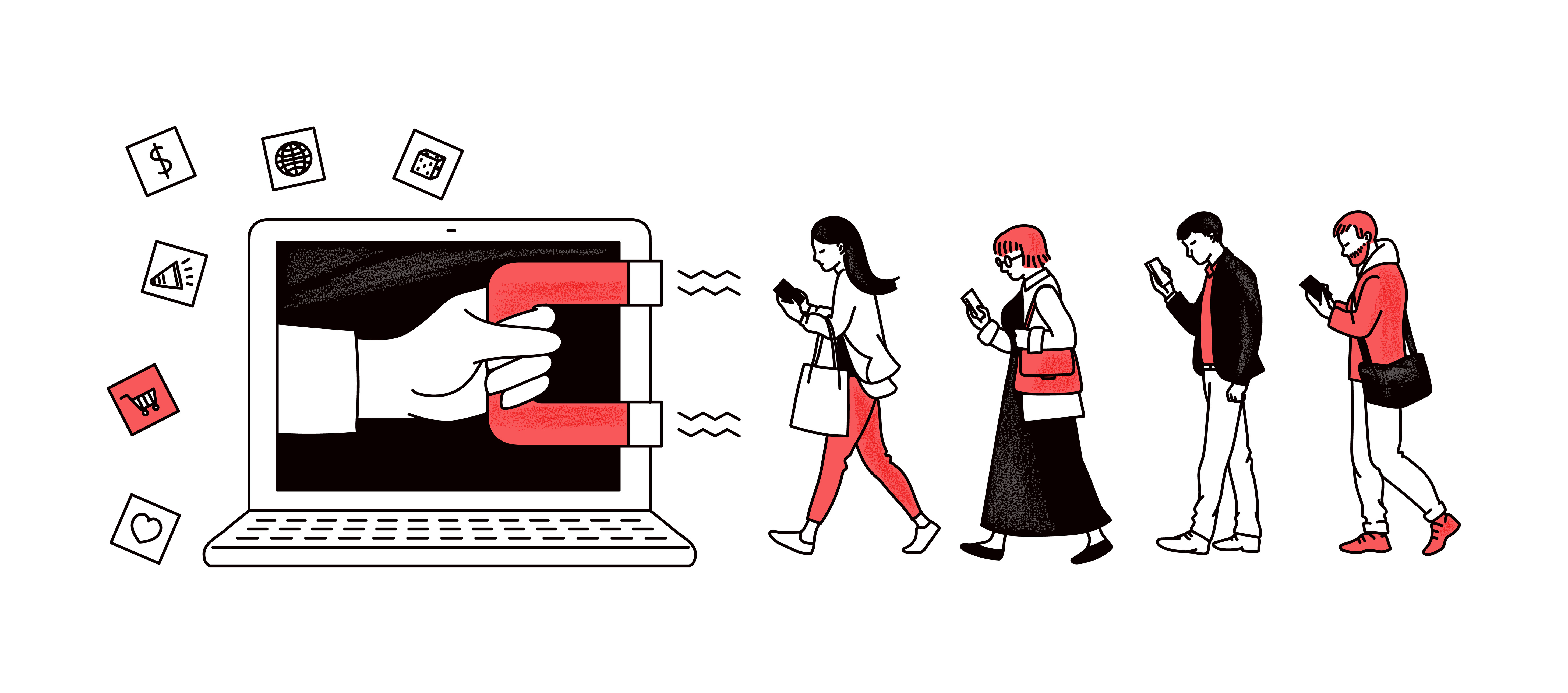 Whether you're the marketing manager, a sales rep, or the CEO, lead generation is a key cornerstone of whether or not you're successful in your job. You need to build a sustainable system for gathering new leads on a regular basis. However, this is easier said than done. And with the constant demand for new leads, more leads, and better leads, it can be a fairly nerve-wracking process.
Moreover, if you're in a B2B (business-to-business) company, the marketing process is even more blurred. B2B marketing is not so straightforward as B2C marketing - which consists of fast sales campaigns on social media and email, social proof from influencers, and viral content. When it comes to B2B lead generation, it becomes a bit trickier. But in this article, we'll break down some of the most trusted and effective methods to acquire B2B leads in 2022. Hopefully, this will help you get started on your journey towards strong marketing.
What is lead generation?

Lead generation is the process of attracting prospects and nurturing their interest in your services, with the goal of converting them into paying customers. You generate new leads when you acquire their contact information, such as their name, phone number, and email. Obtaining their contact information allows you to send email campaigns and make sales approaches to encourage them to consider your services further.
1. Attract high quality leads with targeted ads
The first strategy is targeted advertising, which is a very standard method employed by most B2B companies. In B2B, the most popular channels for online ads include Facebook, Google, and Linkedin.
Most online advertising platforms, be it Facebook or Google, allow you to define your target customer from a wide range of criteria, like industry, company size, region, and position. This allows you to get plenty of exposure to the type of people you most want to attract and sell to. For instance, if you offer IoT products for the construction industry, you can have your ads be shown only to CEOs in construction.
Through hyper-targeted ads, you can ensure that you get the most bang for your buck. And although it might seem that ads are a bit pricey at first, especially when you're in the A/B testing phase to see what works, remember that ads are an investment for your future growth. If you're just getting started and don't have a steady flow of web traffic yet, online ads can supplement this and give you a boost of visitors in the early stages.
Related Article: The 8 Main Types of Online Advertising
2. Create SEO blog content for organic traffic


Method #2 is to build a business blog and optimize for the Google algorithm, so that you can bring in more visitors organically. Note that after you publish a new blog, it often takes about a year (or longer) before the Google search ranking improves. Further, your SEO success is dependent on a consistent effort of weekly blog posts, updating older blogs, and fixing the technical issues in your SEO.
While a business blog can seem like a big commitment, and a questionable one at that since you don't get to see the payoff till much later (nor is it 100% guaranteed), but if you are able to figure out which keywords to focus on, regularly check your metrics in a SEO tool, and just stick with it to the end, the benefits heavily outweigh the initial investment. Once you succeed at SEO, you can earn a passive inflow of traffic, more conversions on your site, and an ever-increasing number of leads from your site.
Related Article: How to Create SEO-Friendly Content
3. Diversify your conversion points
Once you're starting to see more visitors from ads and SEO, you want to figure out who these potential customers are. To do this, you need to convert these leads with a form. Many corporate sites only offer an inquiry form, but in reality only 0.5~1% of your web visitors make an inquiry on average. This is why it is crucial to offer a variety of conversion points, or gateway content, to make sure you can acquire as many leads as possible from your growing traffic.
For example, you can create in-depth whitepapers that cover topics related to your business. Like if your company planned B2B events, you could create a whitepaper on how to acquire more leads at an exhibition, on designing your booth, on how to host an online conference, etc. These content can also contribute to your SEO and bring in more prospects.
Aside from whitepapers, you can also offer a product catalog, a collection of case studies, a comparison between your service and competitors', infographics, on-demand webinars, and other content in exchange for the customer just having to fill out a form with their contact info. You can also offer freebies behind a form like a free sample, free consultation, or a free trial.
Related Article:
5 Easy Way to Improve Your Conversion Rate
4. Host online webinars
Another popular method for generating leads in B2B business is hosting a webinar. Ever since in-person events became difficult in the pandemic, online events have become the norm as an easy and low cost alternative. You can advertise your upcoming webinars on Facebook or LinkedIn, and link them to your landing page to sign up. Also, you can invite your existing leads with an email blast and thereby re-engage formerly inactive leads and get them to remember your brand and even reconsider your services. In this sense, webinars are not only a great way to gather new leads, but also to earn sales from old leads or customers you failed to sell to in the past.
After the webinar is over, individually reach out to each participant and ask if they have any interest in learning about your services or the topic you went over in the webinar. All sales approaches should be finished within 3 days, while the event's content is still fresh in their mind. Try to set up as many sales meetings as you can, and then form negotiations from there.
5. Integrate live chat or an automated chatbot
Another way to maximize lead generation on your site is to integrate a live chat widget or an automated chatbot. By having a little chat pop up when a visitor is scrolling through, you can direct them to downloadable resources, webinars, or the form to schedule a meeting. Alternatively, if you have a large enough team, you could use a chat tool that connects the user to a live sales rep to answer their questions immediately.
If you go to the automated chatbot root, note that it can take some time to design the chat script, depending on how simple or complex of a chat you want to produce. But do try out a chatbot to provide your customers with a better online experience and to capture more lead data.
Related Article: Chatbots: Definition, Benefits, and Popular Chatbot Software
6. Try cold messages on Linkedin Sales Navigator
While cold email is very time consuming and doesn't lead to many meetings, Linkedin came up with a tool called Sales Navigator that makes your cold-sales efforts much more effective. With Linkedin Sales Navigator, you're able to search for your ideal customers with filters like geographic region, industry, position, and size of company, and then you can immediately access all of these customers to send an InMail message (the kind you can send without connecting first), or you can connect with them and send a normal DM.
While you do need to invest a good amount of time in order to see results, Linkedin is without a doubt more effective than sales emails, and allows you to easily find new leads and approach them even if you don't have their contact information.
7. Use marketing automation to find hot leads
While marketing automation isn't exactly designed for lead generation, it does help you recycle your old leads to form sales from the leads you already have. Marketing automation tools track your customers when they visit your site, and record every page they visited, every form they fill out, and when they interact with your emails. When a lead has a spike in engagement, it can alert you that this lead is heating up and it's time to approach.
In other words, if a customer who you failed to sell to in the past returns to your site and is suddenly looking into your services, you'll be alerted so that your sales reps can make a timely approach and set up a meeting. This means you can recycle your lost leads and avoid losing them to competitors.

8. Ask loyal clients for referrals
Last but not least, don't be afraid to ask your clients for a referral. If a customer is clearly satisfied with your service, then ask if they know any business acquaintances who they could suggest your service to. They are likely to share how excited they are about your service to their contacts and since it's coming from someone they know and trust, you can easily earn new customers this way.
If this is a bit too forward for you, you could also ask customers to participate in an interview after working with them for a few months to then turn into a case study for your website. Make it a habit to always ask your clients for an interview so you can accumulate a large stock of case studies for all sectors and types of companies. These case studies have the same effect as a referral and make your brand appear much more reliable.
Summary
While this list of lead generation methods is by no means exhaustive, I hope it serves as an introduction to the most effective methods so that you know where to get started. Also, when it comes to lead generation, you should never depend on a single source of leads. Just think of the companies that were only gathering new leads at in-person events, like exhibitions, before 2020. As soon as the pandemic hit, then they would suddenly have zero leads coming in and their sales would be forced to halt. And they would need to create all these new lead generation sources from scratch. To avoid putting yourself in such a precarious situation, build a marketing mix that brings in leads from multiple sources (such as online ads, webinars, whitepapers, and SEO).