How to Build a Winning Sales Strategy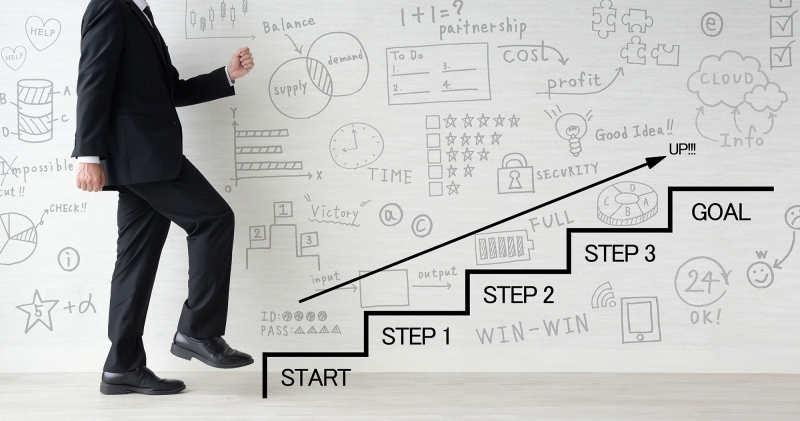 Forming a sales strategy is one of the most effective measures a company can take to increase sales, and the future of your organization largely depends on how strong of a strategy you have.
However, even if you have all the motivation in the world to improve your sales, actually designing a sales strategy is not a simple task. That's why we're going to break down the process into a few easy-to-digest steps, and provide you with several frameworks you can apply when building your sales strategy.
What is a sales strategy?

A sales strategy is a blueprint that lays out how you will achieve your sales goals efficiently with limited resources (such as personnel, time, and budget). For example, if your goal is to make $800,000 in sales and that requires at least 60 sales, then the major framework that includes all the steps to making 60 sales would be your sales strategy.
When tackling sales goals, you can't expect great results by conducting sales activities randomly. It's important to begin with a precise sales strategy that suits your business type, resources, and target customers.
Though this may seem obvious, a sales strategy is meaningless if it isn't realistic and can't be implemented in the end. Ideally, the sales strategy should be expressed in simple, easy-to-understand numerical targets that can be stated in a few words so that you can easily spread it throughout the organization. Make it concise so that all employees can fully understand the objective and start taking actions of their own to achieve it.
The difference between sales strategy and sales tactics

Sales strategy and sales tactics often get confused, but it is important to distinguish between the two. Whereas sales strategy is an overarching plan to achieve a business goal, sales tactics are the methods actually employed to realize the strategy.
In business terms, a sales strategy is set to achieve a Key Performance Indicator (KPI), or an intermediate goal set to realize the Key Goal Indicator (KGI), which is the ultimate goal of a company or organization. So for example, if the KGI that the whole company is working towards is to hold the #1 share for marketing automation in Asia, then one KPI may be to sell to 60 new clients per month by increasing sales meetings (this is the strategy), and the tactics for increasing meetings include SEO, ads, and visiting exhibitions. Refer to the diagram below to understand the structure of sales strategy and tactics.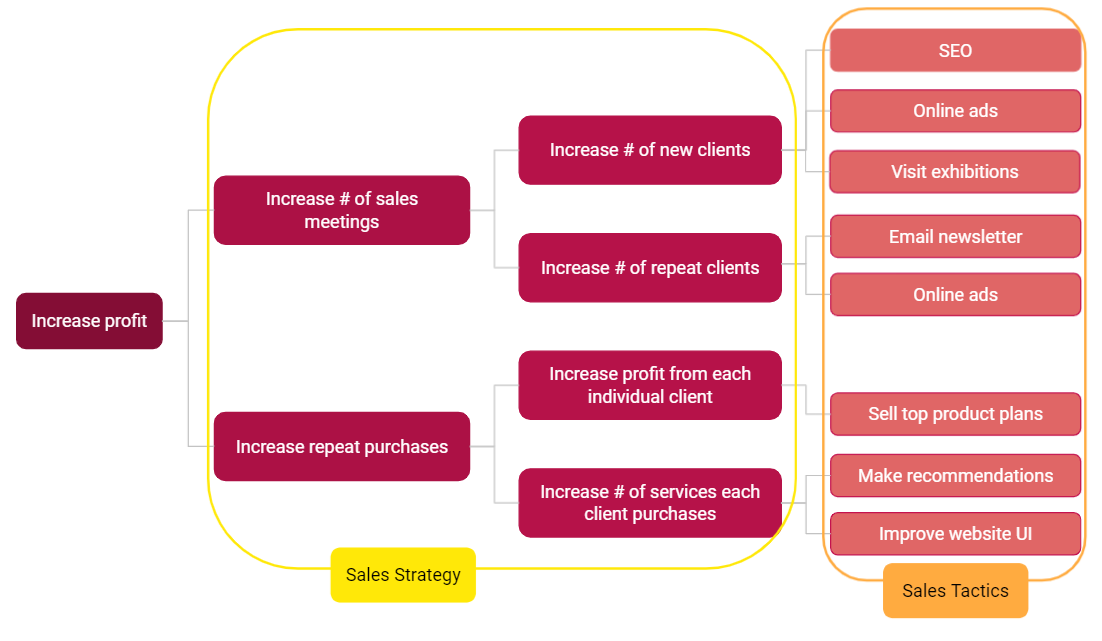 The difference between sales strategy and management strategy

To continue, you should be aware that your sales strategy is not equivalent to the overall management strategy. A management strategy is a mid-long term vision for an organization as a whole, while a sales strategy is only one of the means to achieve that ultimate vision. Always align your sales strategy and individual tactics with this larger management strategy, so that you're steadily working towards your mission and your smaller goals help you gradually move towards your larger goals.
So management strategies are formulated from three different lenses: corporate strategy, business strategy, and functional strategy. The first, corporate strategy, is used to establish the organization's philosophy and concept for management. In order to compete with other companies in the same industry, it is important to clarify the goals of the company at this stage. Then, business strategy refers to the general framework of business development, including sales strategies, sales promotion activities, and marketing methods. Last but not least, functional strategy sets the direction for future growth and development of services, including the features of the company's products, and production and distribution methods. Functional strategy also includes organizational matters such as human resources and finance.
Deciding on a management strategy is a vital step for a new company, but actually for smaller organizations, the sales strategy might be even more important. This is because rather than expending time brainstorming new management strategies, the initial goal is how to increase profits when starting up a business, since without a solid sales strategy, many businesses never get the momentum they need to become a stable, long-running organization.
The difference between sales strategy and marketing strategy

Finally, there is often overlap between marketing and sales, so let's clear up the difference between marketing and sales strategies. So at their essence, sales can be thought of prioritizing the seller's needs and marketing as trying to meet the needs of the buyer. In other words, while sales strategies focus on the seller's vision of "how to increase sales," marketing strategies are positioned from a customer-centric perspective of creating products and services that people will want to buy. While continually researching marketing trends and issues, you need to design products with apparent value to customers that are in demand right now.
It should be noted that sales and marketing strategies are interconnected and should be based off each other. After grasping the price point and concept of your products that customers can accept, figure out the best way to reach your audience and make sales. It also makes all the difference if you can have marketing-sales alignment - and it's only in your favor to collaborate between departments to form cohesive marketing and sales strategies.
How to build a sales strategy step-by-step
1. Lay out your overarching strategy

In this section, we're going to take B2B sales strategy as an example, and break it down into 3 major parts: finding potential customers, acquiring customers, and retaining customers.
The first thing to consider when outlining a sales strategy is how you're going to increase your prospects, or potential customers. You'll have to conduct marketing and advertising to make your target audience aware of the brand, establish yourself as a trustworthy seller, and encourage these leads to have an interest in your product. The methods for acquiring new leads are endless, but to name a few, you could visit events like exhibitions or seminars, create quality web content and do SEO to attract more people to your website and inspire conversions, do PPC ads on Google or Facebook, send out an email newsletter, or post highly-shareable content on your social media platforms. Note that these specific methods are actually tactics, whereas the whole picture for how you attract new leads is your strategy. For example, our company has an inbound marketing strategy, so our goal is to attract as many people as we can to our website to make inquiries and download ebooks, and for that purpose we maintain strong SEO rankings, regularly publish new content, and share this content through email and SNS.
The second part of a B2B sales strategy is to define how you go about acquiring new customers. You will have to determine how you approach customers, propose your solution in a sales pitch, and close sales.
Lastly, the third component is your strategy for retaining existing customers. If you can increase the satisfaction of your customers after their purchase and turn them into fans of your brand, they can become repeat customers if you manage to successfully upsell/cross-sell to them. It will be important to regularly check back in with your current clients to see if they have any new issues or interests, so that you can suggest new products down the line.
If you can break down your sales objectives as a strategy in this way, it will be clear what you need to do next.
2. Choose the most effective tactics to achieve it

Once the strategy is decided, the next step is to think about the tactics, or the concrete actions you're going to take to make this strategy happen.
Consider which sales style best matches your industry and strengths - whether that means door-to-door sales, cold-calling, inbound sales through the use of marketing automation, or something else. Whether you do BtoC sales to individual consumers or sell to businesses, or simply make partners to handle sales for you, the mode of sales that works best varies widely. Reassess your resources (from sales-related technology to the skill level of your marketing and sales reps) and choose implementable sales tactics that your target audience will respond well to.
To add, I've found that if you try Googling "sales tactics," a bunch of psychological tricks for persuading people pop up, but that isn't what we mean by tactics here. Tactics are actions like qualifying leads before making a sales approach or calling leads that have engaged with your web content within the last month.
Next, to measure your progress, you can set specific numerical goals, such as "each sales rep should aim to make at least 300 calls per month and schedule 8 sales meetings per month" so that you can see how well your strategy is working. By setting a clear KPI, you can quickly take notice when your sales strategy isn't working and make changes accordingly.
3. Formulate a long-term plan

The last step is to make a plan. Your strategy may not go smoothly the first time around, so be flexible and allow yourself to constantly check for issues or points that can be improved upon by adopting the PDCA cycle - a continuous process of Plan, Do, Check, and Action. Everytime you try a new tactic, for example, measure and analyze the results, then make tweaks in your methodology in order to generate a better result next time.
Finally, you should also delegate a single person to be in charge of putting this plan into action, so they take responsibility to actually carry out the plan. In addition, make it clear which of your employees this plan affects, and who should be making changes in their sales style to follow the plan.
Frameworks for building a sales strategy

In business, a framework is a foundation for analyzing business strategies. It's essentially a formula based off past success, allowing you to design strategies and review issues efficiently. However, it is important to note that it limits your thinking and makes it difficult to come up with new ideas.
Common frameworks include the "3C analysis," "SWOT analysis," and "4P analysis." Although these are frameworks for management and marketing, they can also be employed when formulating sales strategies. With each of these frameworks, you can assess where your company's greatest strengths lie and then utilize them in your sales strategy for the best result.
3C's Model

The 3C Analysis Business Model was originally created by Japanese organizational theorist Kenichi Ohmae. This model focuses your analysis on the 3C's or the strategic triangle: the company, the competitors, and the customers. Only by integrating these 3 factors into your business strategy, can you maintain a competitive advantage in the long-term.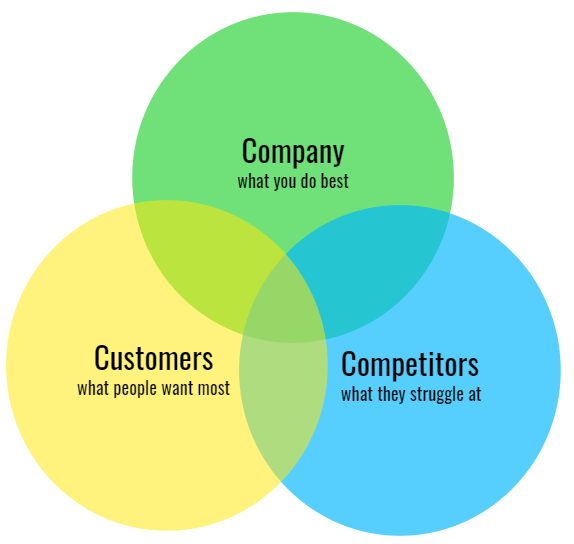 The first C is the company. According to Ohmae, your company doesn't have to be the best at everything - as long as you have a decisive edge in at least one key area, then you can improve upon the lacking areas later on. What would you say is your company's competitive advantage?
Specialization or expertise in a niche field
Unique/superior product feature
Efficient and cost-effective supply chain
Highly skilled personnel
The second C is customers. You need to define your audience- who are the customers you want to target with this product? Consider their demographics like age, gender, economic status, industry/job position, and even their personal interests and hobbies, what social media they use, and what channels they use to search for information. I recommend you conduct market research yourself whether through phone or internet surveys or in-depth interviews. Further, you can get detailed and break your target audience down into specific segments and plan for how you can market to each group in a more effective way. For example, do you sell the same products to businesses and individual consumers? How would you have to present them differently?
The third C is competitors. Here, you have to conduct thorough research of your competitors to better understand your own brand's positioning in relation to them. Locate your main competitors in the industry and ask these questions:
How well-built is their website and what content does it include?
How do they attract new users to their website?
What is their marketing strategy?
What is their brand image?
What is their unique selling proposition?
What technology have they integrated into their business?
What is their pricing? Post-purchase support system?

 

SWOT Analysis

 

A SWOT analysis is where you analyze four major aspects affecting your business - strengths, weaknesses, opportunities, and threats. SWOT is similar to the 3Cs in that the goal is to identify where your company stands out and what you're still lacking, so that you can work on the problem areas and be aware of the potential opportunities and threats going forward.

 

Strengths and weaknesses are pretty self-explanatory but what about the latter two? Opportunities and threats are external factors, and could be a chance for business growth or some sort of risk to prepare for. Opportunities include budding needs in the market that are still untapped, some new market trend that you could bandwagon on, or maybe even a changing demographic that you could start marketing to? Threats refer to the negative possibilities, like losing a partner, bad press for not reforming your business practices to match 2021 standards, an internal scandal making the stock prices take a hit, losing your funding from an important investor, or something totally out of your control like a global pandemic coming out of nowhere…

 

Once you complete your SWOT analysis, you can start taking action to highlight your strengths, improve your weak areas, take advantage of each opportunity, and reduce the threats.

 

4P's Model

 

Though traditionally used in marketing, the 4Ps concept can used as a basis for building sales strategy as well. The 4Ps is great for visualizing business flow from a bird's eye view, from the point of product design to branding and actually promoting the finished product. Discuss the following questions for a thorough 4P analysis:

 

#1 - Product

What problem is this product solving? Is there a clear demand?
Are there other ways to fulfill the same needs?
How does it complement other services we sell?
What will the user experience be like?
Who are your competitors and how does your product compare?

 

#2 - Price

What price would the target customers be willing to pay?
Will we give discounts or do campaigns?
Is the customer fairly price-sensitive?
Are there already established price points for this type of product?
How much profit are you expecting to make?
How much of a profit margin do you need?

 

#3 - Place

What are the most appropriate channels to sell through?
Where do customers search when they want to buy your product?
What channels do your competitors sell through?
Will you sell directly or through an intermediary?

 

#4 - Promotion

Are there any exhibitions that are likely to have potential customers?
What social media channels do your customers frequent?
What KPIs should I set to measure the effect of marketing efforts?
Do you need to market differently depending on the season/time of year?
What are your competitors doing well in promotion? What can you do differently?

 

 

To wrap up

With smart planning and a constant drive to do better, there's always room to increase your sales. Analyze your company to determine your competitive advantage with one of the analytical models above, and then design a sales strategy and tactics that best suits your business.

 

To learn more about sales, check out the resources below:

The Complete Guide to Sales Terminology