Facebook Ads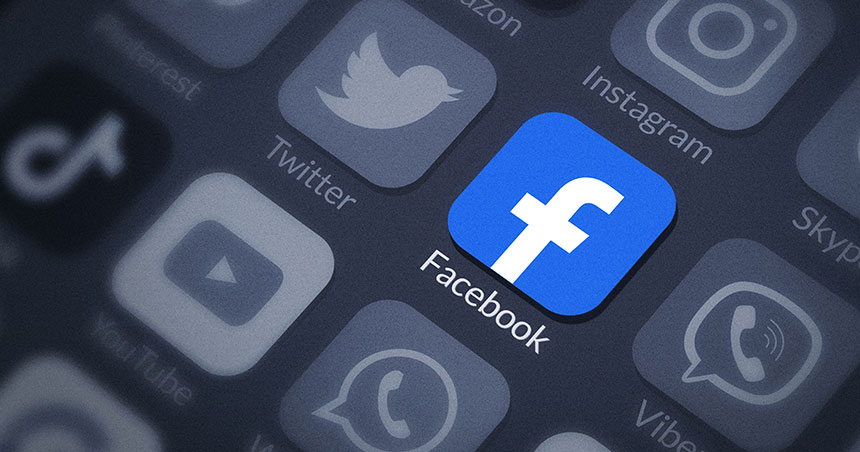 You don't know what platforms you should use when you want to start your advertising campaigns? You may consider choosing Facebook if your business is at the phase of raising brand awareness or want to build relationships with your targets. 80% of the Internet users in the world use Facebook. There might be people who need to know your business.
Quick Facts About Facebook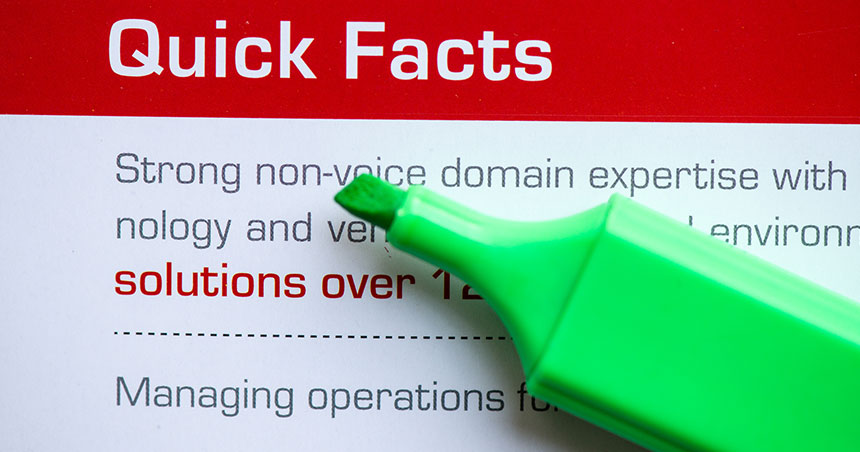 60.6% of the Internet users use Facebook
86.3% of US marketers use Facebook
The average CPC for Facebook is $1.72.
The average Facebook ads conversion rate is 9.21%.
What Facebook Ads Stand Out From Other Methods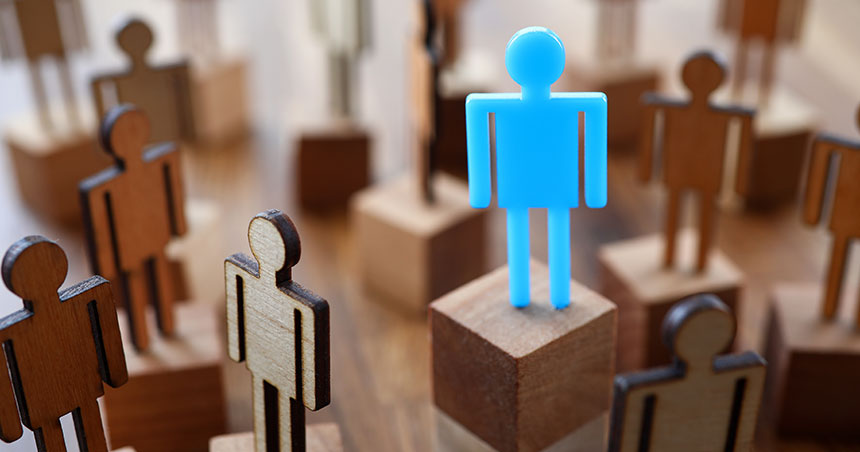 The Detail Information of Each User
The most standout point of Facebook is its in-depth information. No other platforms know what high school you graduate, who your friends are, and where you work. With Facebook ads, you can target more precisely than any other platforms based on the factors;
Demographics
Locations
Interests
In addition to these, you can track how your targets interact with your websites / Facebook page, so you can choose what advertisements to show.
You Can Raise Brand Awareness
You can raise brand awareness before you start listing your ads on Facebook. It will reduce your ads' cost because your profit ratios are high if you can approach the audience who are already interested in your business. According to Statista, the total monthly active users (MAU) on Facebook are 2.7 billion. Facebook has the largest number of users in the world. There are definitely potentials that might be your customers on Facebook.
According to Neil Patel's article, 96% of the visitors to your websites are not ready to buy. However, you can retarget those users with Facebook pixel.
Different Types of Facebook Ads
Photo ads
Video ads
Carousel ads
Slideshow ads
How do Facebook Ads work?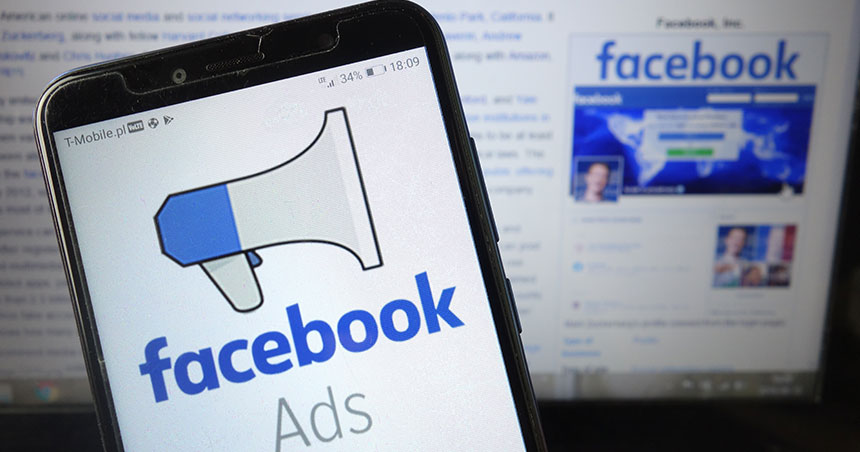 1. Create Facebook Page for Business
Besides your personal Facebook account, you need to create a Facebook page first to post advertising on Facebook.
2. Plan

I chose promotion for now.
Select who you want to target
You can choose the target audiences based on locations, demographics, behaviors, and more categories.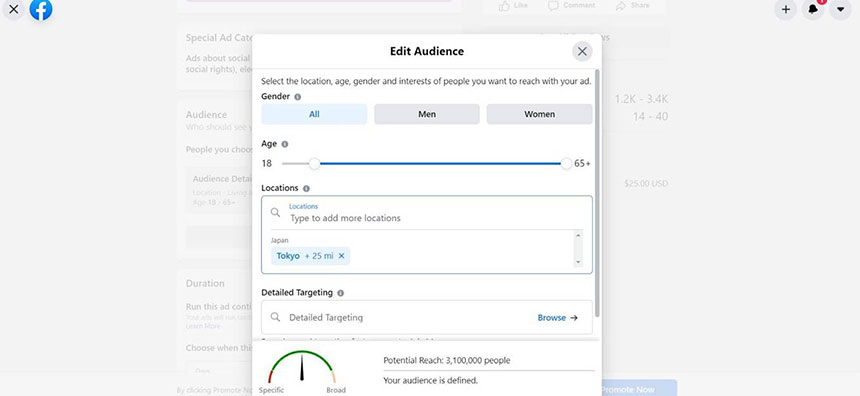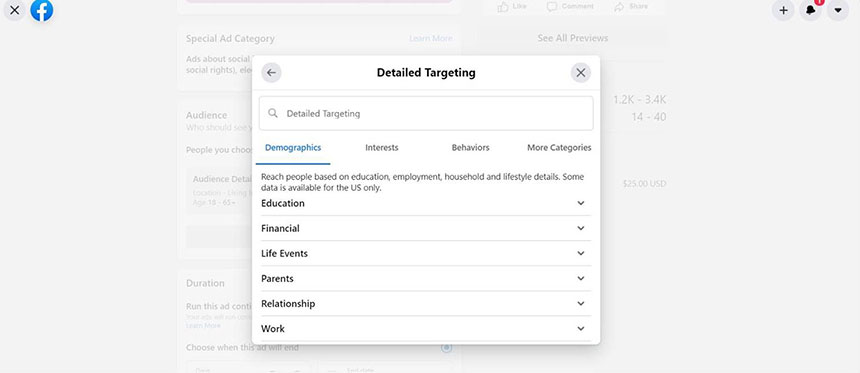 The cost can vary depending on the objectives of your ads. Facebook says the average CPC (cost-per-click) for Facebook ads is $$1.72, and CPM (cost per mille) is $$7.19. For example, if your post encourages audiences to make purchases directly, it costs more than just posting content to share information or knowledge. The more competitive the industry is, the more your ads cost. You can set your budget not to exceed the amounts of money you want to invest.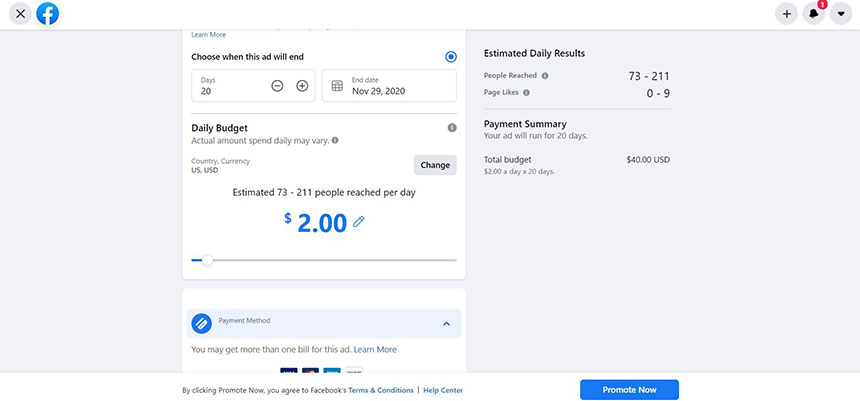 3. Post
4. Retarget from the data
Once you post your ads, you get the information to see who is interested in your sites the most, what types of ads are the most frequently viewed, and your ads' conversion rate.
Facebook is Where You Can Have a Closer Connection with Your Audiences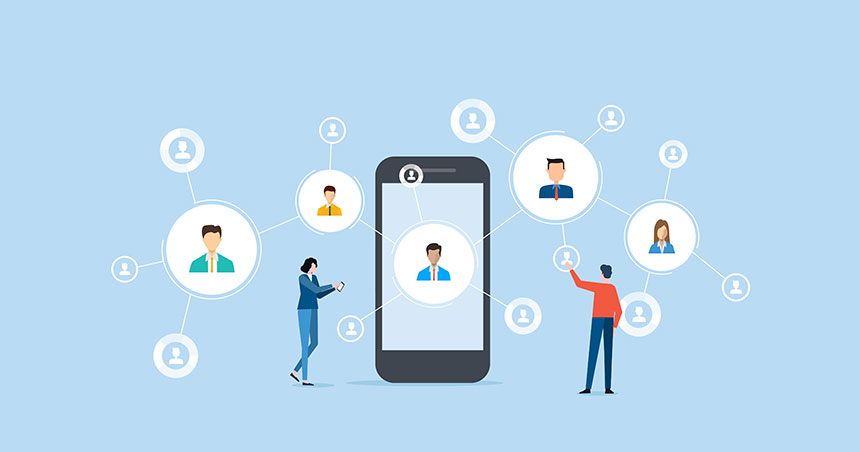 Facebook ads are good for making long-term relationships with your audiences. Unlike Google users who want solutions, Facebook users come to the site to connect with other users. Moreover, more and more businesses are joining Facebook advertising campaigns to segment users' ease and effectiveness. Users don't want to see the same many ads for hair removal salons. So, rather than set your ads' goal to increase your instant sales like others do, try to make a difference. What differs from competitors? Make your audiences your fans throughout your activities on Facebook. They will be more likely to buy from you than others if they trust you and like your content.
Old Marketing Model (Ads for selling instantly)

New Marketing Model (Make a bond with a user and sell)

Recommended Youtube Videos to Learn Facebook Ads
How do Facebook ads work?
Why Your Facebook Ads Don't Work (and How to Make Them Profitable)
Facebook Ads in 2020: My Latest, Greatest Secret Strategies!
Facebook Ads Tutorial 2020 - How to Create Facebook Ads For Beginners (COMPLETE GUIDE)
Summary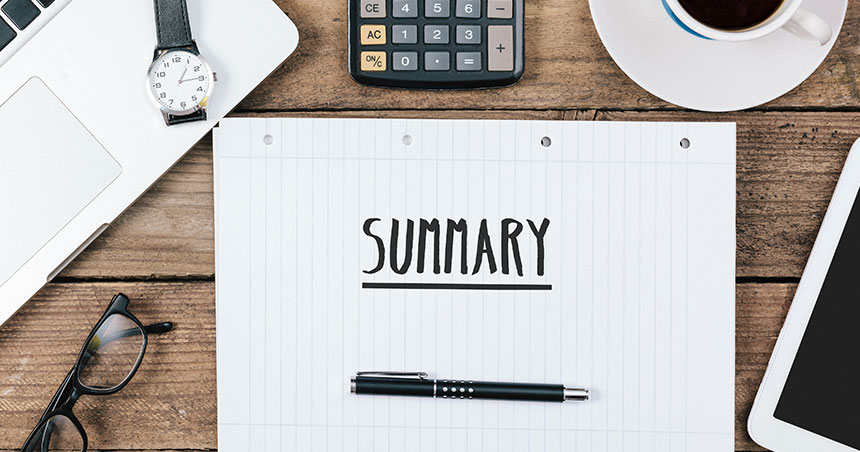 Facebook ad is good to use if you want to
Raise your brand awareness
Build a long term relationship with your audience, rather than make money fast
Target a specific audience group