Customer Success Models: High Touch, Low Touch, Tech Touch, and Community Touch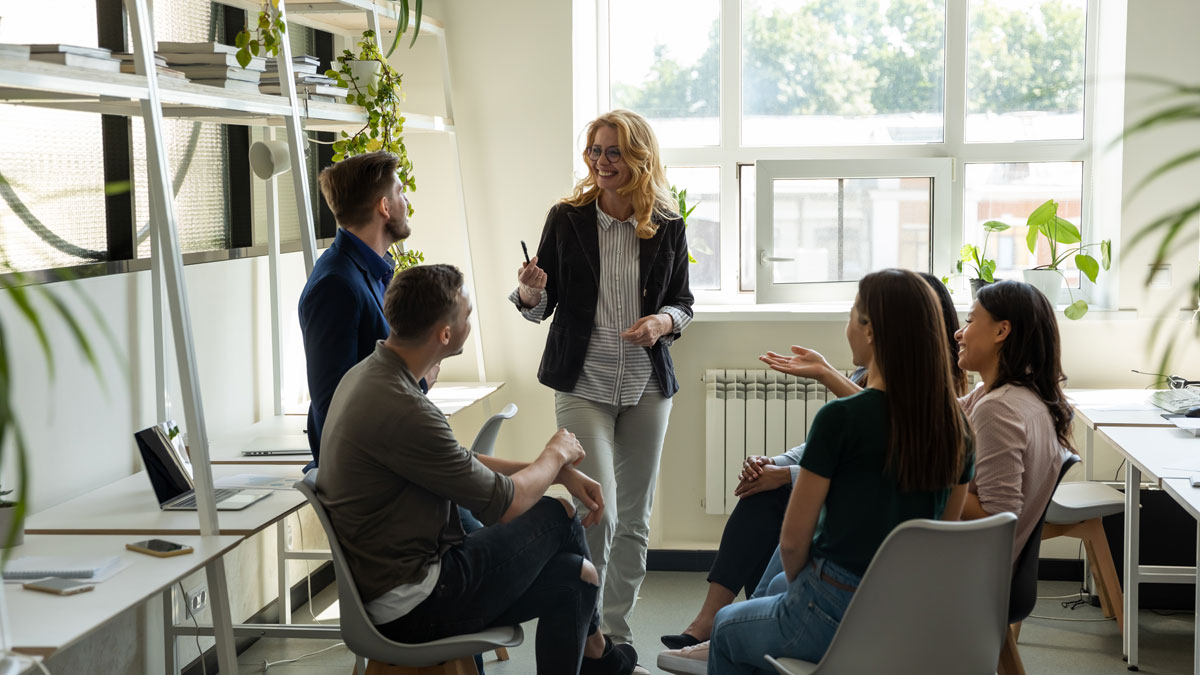 A customer success model, also called an engagement model, is a framework for how your company handles the onboarding process post-sale. "Onboarding" refers to guiding your customers as they transition into using your new product, and ensuring that they have the skills and knowledge to be successful with it.
When it comes to conducting onboarding, there are four main models you could follow: high touch, low touch, tech touch, and community touch. In this article, we'll explain each model in detail and share some case studies in customer success.
What is customer success?
Customer success is a department that is often confused with customer support, but in fact, is much more involved to make sure each new client is able to integrate their solution and see results. While customer support typically waits and only responds when the client asks for assistance, customer success takes a more proactive approach and often meets with the client 1-1 to help them in everything from planning and setting goals, to actually using the solution to reach those goals.
Customer success was first popularized by the rise of SaaS and other subscription-based businesses. The subscription model necessitates that customers renew their subscription every month or year and continue feeling the benefits in order to do so. With customer success, you can keep each account engaged and retain more customers long-term.
The 4 customer success models
The customer success team has to determine which of the accounts they're managing have the highest LTV (lifetime value), and then delegate their limited resources into keeping them engaged and satisfied. The customer success models are based on this idea of prioritizing high-value accounts with the most hands-on engagement. The four models we'll look at today are high-touch, low-touch, tech-touch, and the community model.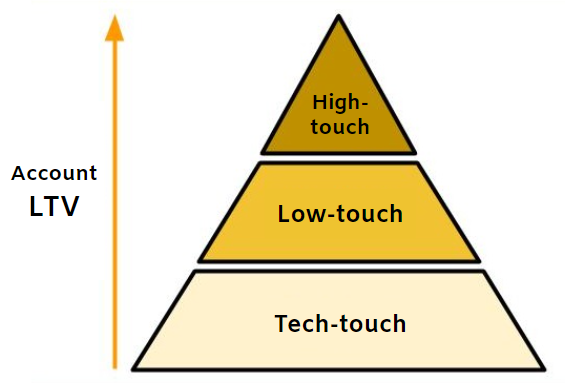 High-touch model
The high touch strategy means lots of regular one-on-one meetings with a dedicated customer success manager, with the guidance personalized to their needs. The meetings could include consulting on problem areas in the client's business, helping them to customize features, and periodically checking in on their progress.
This high-touch model requires the most time and resources, so it's typically only applied with large-scale or high-value accounts, in which it makes sense to make such an investment. If you spend extra time assisting the accounts with the highest potential LTV, then you'll be able to continue doing business with them for the longest possible time. Though it should be noted that this segment is typically the smallest, since it's often impossible to provide every account with such focused attention.
Low-touch model
The low-touch engagement model falls somewhere in between high-touch and the following, tech-touch. Low-touch means less contact in general, and minimal one-to-one guidance. An example of low-touch onboarding could be an educational webinar or an online gathering in which you answer multiple clients' questions at once - thereby using your resources to tend to a number of accounts simultaneously.
The accounts that fall into the low-touch category will be those with a lower LTV than the major accounts that are targeted with high-touch engagement. However, low-touch is a blend of high-touch and tech-touch, so there can still be consulting sessions or other in-person contact, but with a mix of on-demand videos or a helpful manual to drive integration automatically as well.
Tech-touch model
The tech-touch engagement style can be used to assist accounts with a lower LTV, without using up too many resources. Tech-touch refers to utilizing technology to conduct onboarding in a nearly-automated fashion. You can prepare video tutorials, send out a series of automated emails that introduce each feature, and provide further know-how and inspiration with email newsletters or blogs.
Community model
Last but not least, the "community model" is a grassroots form of customer success, in which you create a forum space for users to communicate with each other. This makes it much easier for users to get immediate answers to their questions, work together to solve problems, and share new ways to use the product to get results. This community can provide a new form of value to customers, and also strengthen your branding.
While it does take an initial investment to create this platform and get it running, once it's up and in use, your users will keep it running on their own. This community will allow you to cut down on both customer support and customer success resources, as users will be able to easily help one another.
Customer success case studies
Salesforce
Salesforce is the company that first came up with the concept of customer success. Their Japanese branch has adopted three engagement models: high-touch, low-touch, and tech-touch, and then determines the onboarding strategy for each account based on their plan (paid or free), and the phase in integration.
High-touch: For clients under paid plans, they provide both integration and operation support through in-person meetings.
Low-touch: SalesForce invites all new paying customers to an online "Welcome Seminar" immediately after signing the contract. They also offer a variety of workshops and webinars for further learning post-sale. Meanwhile, for customers under their free plan, they provide online communities for open-discussions about the tool, along with technical support to help get them set up.
Tech-touch: For all customers regardless of whether they're on a paid or free plan, SalesForce sends out an automated series of emails that guide them through onboarding. Aside from this, customers will receive invites to various online events, and be sent content that they can study online.
San-san
San-san is a Japanese company that creates solutions for managing business cards digitally. In terms of customer success, they employ three models depending on the account's phase post-sale: high-touch, mid-touch, and tech-touch. San-san divides the post-sale phases into "integration," "operation," and "customer retention" and chooses the appropriate methods at each phase.
High-touch: The dedicated customer success team focuses their efforts on accounts just getting started with San-san, at the integration phase, in order to ease them into the tool and encourage frequent usage. Also, they make sure to offer thorough customer support at the customer retention phase, to prevent churn.
Mid-touch: Support at the midway point between high-touch and low-touch is offered 2 months after clients have integrated San-san. Close follow-up is provided over the phone and through email, instead of spending time on individual meetings.
Tech-touch: In the integration phase, new clients receive support through phone and email on top of the regular meetings. In the operation phase, San-san holds educational webinars to improve the usage rate. And finally in the customer retention phase, dedicated sales staff follow-up with each client every once in a while over phone/email to identify any risk of customer loss and respond to it early-on.
Number of accounts per customer success manager
Finally, let's take a look at the number of accounts each customer success manager should typically be responsible for.
HiCustomer, the company that created a CSM platform also called HiCustomer, conducted a survey with customer success managers in September 2020 and published the results in their Customer Success Whitepaper.
According to the whitepaper, the most common number of companies that each customer success manager is responsible for is 16-50 (32.7%), followed by 51-100 (26.9%).
Since strategies differ from business to business and from product to product, we can't specify the number of accounts each customer success manager should be in charge of, but you can refer to this data as a guide.
Summary
If you're just getting started with customer success, it's a good idea to offer high-touch engagement to each account till you get a clearer idea of what are the high-value accounts you need to focus on. Also, in order to implement a tech-touch strategy, you have to prepare a wide range of video, email, and manual content, along with online events like webinars. This can take a long time to get ready, but once you're able to delegate resources to the accounts where it matters most, while still keeping the lower-value accounts engaged through automated content, you'll be able to majorly reduce costs and it'll pay off in the end.
Similar articles: