What is Account-Based Marketing (ABM)? Definition, Examples, and Tools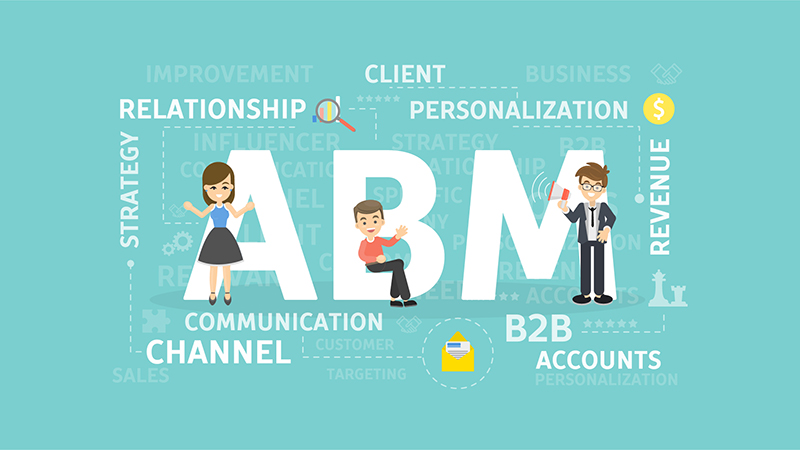 It's 2021. The internet is so oversaturated with information that marketers have to constantly fight each other with SEO and advertising just to get a bit of web traffic. However, to get the most out of your marketing efforts, you have to narrow your focus to the types of customers that are the best-fit for your business. Rather than blindly casting your net into the internet void, if you actively position and target all your marketing campaigns to a specific handful of high-value segments, you're likely to see much more ROI in terms of sales and long-lasting relationships with clients.
This concept of targeting high-value accounts is central to a methodology called "account-based marketing" or ABM for short. Account-based marketing has been steadily growing in popularity over the last few years, and according to the Not Another State of Marketing Report, in 2021, already more than 70% of marketers are integrating ABM into their strategy, showing a 15% increase from 2020. In this article, we'll introduce you to the concept of ABM, the major methods, benefits, and some examples of ABM in practice.
What is account-based marketing (ABM)?
Account-based marketing is a B2B marketing strategy that concentrates resources on a small set of high-value accounts that are likely to yield the highest ROI. In ABM, businesses adjust their marketing campaigns to deliver more personalized content, information, and communication. This allows for a better response from the group you most want to reach than if you sent a general message out to whatever contacts you have. In addition, ABM also prioritizes maximizing the LTV (lifetime value) of each client so they continually make contact with their past customers, conduct lead nurturing and encourage repeat purchases.
"ABM is all about building quality relationships with customers; the ROI will follow."
Andy Bacon, at B2B Marketing
With the normalization of digital tools like CRM (Customer Relationship Management), SFA (Sales Force Automation) and Marketing Automation, it has become easier to segment out certain target groups and personalize contact with them. The relationship doesn't end after they make a single purchase. With the help of these marketing and sales tools, businesses are able to nurture their most important leads over a long period of time and maximize the mutual-benefit they and their clients gain from their relationship.
Five benefits of account-based marketing
1. Faster sales process
Because your sales reps will only be approaching highly-qualified prospects, you can expect a higher appointment rate and close rate. The whole sales cycle will become shorter if you focus only on qualified leads from your core targets.
2. Efficient use of marketing resources
If you have a small marketing team, you can still see strong results if you focus your time on the right audiences. Moreover, you can fully utilize the capabilities of your marketing automation if you focus on only looking at the data of a smaller subset of leads, and using this to guide your future content and campaigns.
3. See more engagement with content online
By creating your content to match the interests of your target customers, you can expect much higher engagement when you share them on social media or email. Also, if you create whitepapers, catalogues, webinars, or other pieces of in-depth content specifically tailored to your target, you can expect more conversions as well.
4. Achieve marketing-sales alignment
You will have to first discuss and clarify your target segments with both marketing and sales. Then, once everyone is on the same page, you will be able to position both marketing campaigns and sales approaches towards the exact same groups, so you'll naturally end up with a much more aligned and cohesive marketing-sales process.
5. Can build long-term relationships with clients
ABM prioritizes quality over quantity when it comes to customers. You'll be able to focus your energies more on strengthening your relationships with existing clients, rather than always frantically searching for new leads to pass onto sales. You can create a business model that focuses on increasing the LTV of each customer, by offering add-on services and cross-selling complementary products.
Important ABM metrics to track
Account Engagement:
It's necessary to regularly check how people are responding to your content, posts on social media, and marketing campaigns (such as emails and ads). Take note of what channels your segments tend to engage with more. For example, if you find that you have high open rates and conversion rates on email, then try to send out marketing newsletters more frequently.
Sales Cycle Length:
By focusing on the right target segments who have actualized needs, your sales cycle should be getting shorter. Analyze it and in cases it's still slow, look for the bottlenecks and barriers and try to address these so they aren't a problem in the future. Or else, reevaluate if you should really be targeting this group.
Customer Churn Rate:
You can also expect the customer churn rate (the rate at which you lose existing clients) to get lower when you adopt ABM. However, keep in mind that for B2B businesses, since the customer lifecycle is longer, it may be a while before you start seeing changes.
Web Analytics:
Web marketing is a central method in ABM. All your online marketing efforts, be it email, Facebook ads, or SEO, should all be focused on attracting the right audiences to visit your site, and eventually make an action either by inquiring or filling out a form to download content. Specific web metrics include on-site behavior like the number of accesses, page views, sessions, bounce rates, users from a single company, and conversions. Also, be sure to track where your traffic is coming from, be it organically (meaning your SEO is probably working), from links in emails, or advertisements.
Relationship between ABM and inside sales

In recent years, B2B businesses are increasingly adding an inside sales department on top of traditional field sales. The role of inside sales is to make first contact with a lead and qualify them, or make sure they have actualized needs before passing the lead onto field sales, who will then make an actual sales approach and try to set up a meeting.
And actually, inside sales goes hand-in-hand with the ABM methodology, since when you're trying to identify key accounts, you have to determine their quality as leads, but often you won't have enough information to do so. This is where inside sales comes in and fills in the gaps by directly contacting the lead, either by phone or email. Inside sales may inquire about issues like budget or potential timing for adopting the product, and based on this interaction, they'll judge whether to pass the lead onto field sales or continue lead nurturing. This intermediate interaction will help you avoid making pushy, unwanted sales pitches to people that aren't ready to buy, and will therefore help maintain your good relationships with all your leads.
Account-based marketing tools
Marketing Automation
Marketing automation is a type of web analytics that allows you to track the online behavior of your leads. Generally, marketing automation tools also allow you to evaluate the level of interest of each lead through lead scoring and create and send email campaigns as well.
If you're looking for a marketing automation service that even SMEs can use with ease, our original tool BowNow is designed to be as affordable and user-friendly as possible. BowNow is also meant for B2B companies, and can automatically gather information on the types of companies visiting your website from their IP address, allowing you to analyze the data in the tool. You can also segment out your target audiences by industry, size of company, geographic location, past online actions, and more, and send them personalized emails, and see the results like the open rate and conversion rate from each email.



SFA (Sales Force Automation)
SFA tools are meant to keep track of important lead sales data and to accomplish sales tasks with more efficiency. By adopting a SFA tool, you'll be able to keep track of pipeline velocity (the time it takes to make a sale) and even analyze the probability you'll be able to close a sale depending on the company, which will be good to know when trying to figure out which segments to target.
CRM (Customer Relationship Management)
CRM tools are meant for managing the relationship with customers post-purchase, to prevent churn and create opportunities to cross-sell or upsell. CRM is useful in adopting an ABM strategy because it'll help you with preserving your high-value accounts and increase the LTV of each.
Account-based marketing examples
In this last section, we're going to go over a few examples of ABM campaigns that you could try out in your own marketing.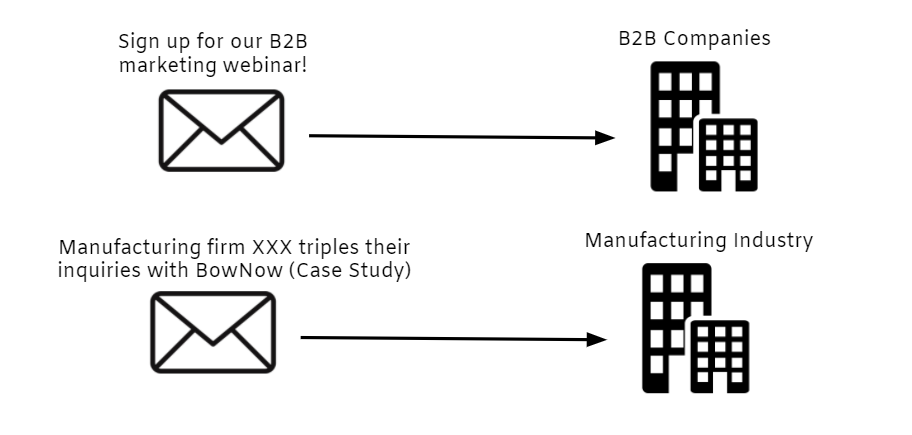 1. Segment your mailing lists by type of company. With your email marketing tool or marketing automation, create mailing lists divided by industry, B2B vs B2C, large corporation vs SME, region, and place in the marketing funnel. Then you can deliver content that is undoubtedly relevant to the recipients, and you can expect a higher open rate and CTR as a result. Prepare a wide variety of content tailored to different audiences, be it ebooks, market research, blogs, or videos, and share it only with the people it is meant for. You could also target certain positions, like marketing directors or C-level executives.
2. Host events for your target customers. Events include in-person or online seminars, workshops, conferences, trade shows, or more intimate get-togethers like at a bar or restaurant. Try to form events around your target audience's business challenges or interests, and make it clear it's for them in the title and description. Further, you could try promoting the event with Facebook ads, which allows you to target the ad to specific demographic, industry, and job position - so it's very effective in attracting the right people.
3. Plan SEO around the keywords your target audience is searching. For example, our company designs a marketing automation tool for SMEs, so "SME marketing automation" or "marketing automation for small businesses" would be a couple of long-tail keywords to target. Conduct keyword research on sites like Quora, Ubersuggest, and Keyword.io in order to get an idea of the questions people tend to search for and gradually create content that responds to those questions. Aim to make your website appear on the first page of SERPs when potential customers are looking up topics relating to your business.
Summary
Account-based marketing is a strategy that has shown to be effective across all sectors in B2B business. To try it out at your own company, focus on a few main concepts: (1) prioritize your high-value clients, that have the largest LTV, (2) personalize your marketing messages and content towards them, and (3) commit to maintaining a long-term relationship with each client.
Want to explore business strategy further? Check out these related articles:
How to Build a Winning Sales Strategy
Go Digital or Go Home: 7 Successful Cases of Digital Transformation