B2B Marketing for Total Beginners (10 May 2022)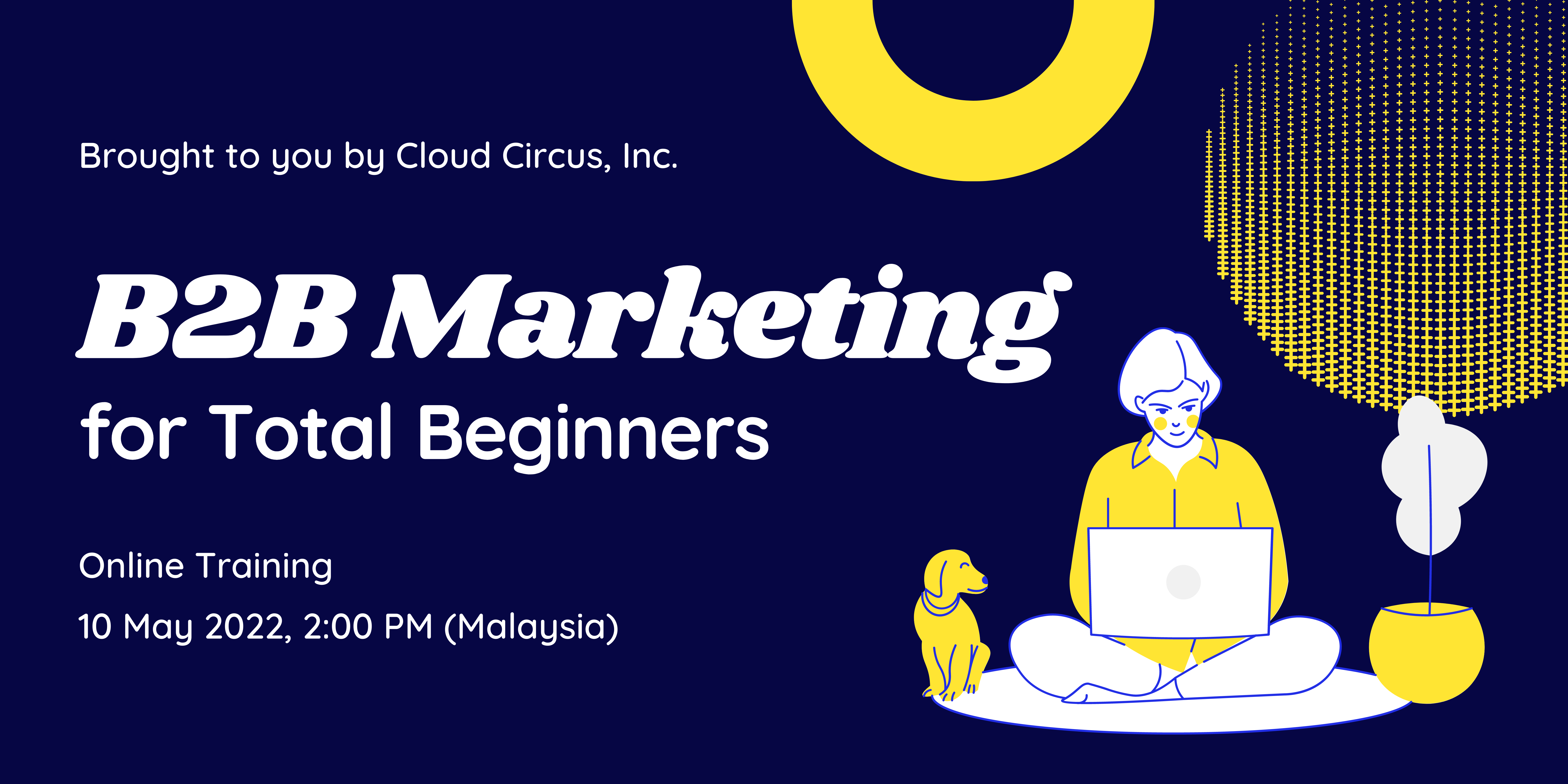 Date: Tuesday, 10 May, 2022 2:00 PM~ (Malaysia)

How to Register: Fill out the form below and the Zoom details will be sent to your inbox
If this sounds like you, don't miss out on this event!
You feel the need to strengthen your company's marketing and are looking for new methods to try
You're a beginner when it comes to marketing and want to start with the basics
You want actionable advice to increase your B2B sales
Overview
In this seminar, you will gain a foundational knowledge of how B2B marketing works so you can get started from zero at your own business. We'll start from the very basics, with a discussion of how B2B marketing differs from the more familiar B2C, go over the customer journey, and then introduce you to both the old dependable methods for B2B marketing/sales as well as the newer trends we can expect to see in 2022.

Feel free to join in this event even if you're not in marketing yourself! We'll touch a lot on B2B sales strategy, and the bigger picture of B2B business as well, so we welcome anyone who is motivate to learn something new and improve their business!

Please also note that this seminar is held regularly.
Make sure you haven't attended this seminar already before signing up. Thanks!
Webinar Topic
■ B2B Marketing for Total Beginners



・What is B2B marketing?
・Looking at the customer journey in B2B
・The 3 most common pitfalls in B2B marketing
・Tried-and-true methods for B2B marketing
・B2B marketing trends to expect in 2022


■ Q&A Session

Please note that the content may be subject to minor changes.
Due to the nature of this event, participants from the same industry are respectfully requested to refrain from attending.
Event Details
Date and time
Tuesday, 10 May, 2022 From 2:00 - 3:00 PM (Malaysia/Singapore/Philippines Time)


*Individual consultations will be available after the seminar.

Language
English
Participation Cost
Free
Speaker

Madison Steakley (Marketing and Sales Manager at Cloud Circus, Inc.)

Capacity
50 people *First come, first serve.
Caution
We reserve the right to reject applications from competitors/companies in the same industry at our discretion.
Please refrain from recording or taking pictures during the seminar.
Keep in mind that the content of the project may be subject to minor changes.
Sign up for this seminar