Google Maps Optimization: How to Rank Higher on Local Maps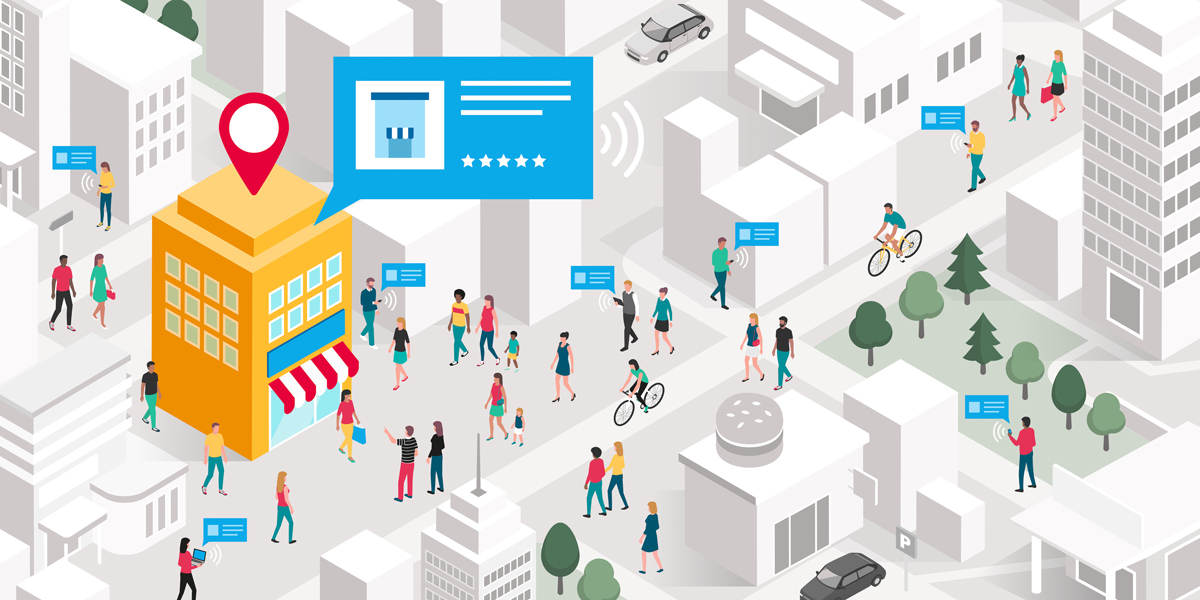 Through Google maps optimization, local businesses of the same area fight over the top spots in Google maps, so that they're the first options people consider when searching for something, and receive more customers as a result.
These days, there is no marketer who is not aware of SEO (search engine optimization), and even small businesses are taking steps to claim the higher ranks on SERPs (search engine results pages). EFO (entry form optimization) is also becoming more common as a method to increase conversions on your corporate website. But "Google Maps marketing" is still a relatively new phenomenon, and many marketers aren't sure how to get started and move their business to the top of the search results. Today, we're going to go over how Google Maps optimization works and what factors into your ultimate ranking. Feel free to use this as a reference to guide your own optimization.
What is Google Maps Optimization?
Google Maps optimization, or local seo strategy, refers to the process of fully filling out your Google My Business profile, adding high quality photos, receiving good customer reviews, and taking other steps to improve one's ranking on the Google Maps search results page.
For example, if you type in the words "italian food" in Google, nearby restaurants will come up first in SERPs along with a map showing you where they are. Google Maps optimization is very important for companies that manage local stores, and allows potential customers to quickly access info like your location, phone number, and business hours, as well as view other customer reviews - which play a large part in people's choice of business or store.
How is Google Maps Optimization Different From Regular SEO?
In typical SEO, if the keywords are the same, the results displayed are basically the same no matter where in the world you search (as long as personalized search is turned off). However, if you search for "web design company," for example, you will see different results in Tokyo and Osaka. This is referred to as "local search."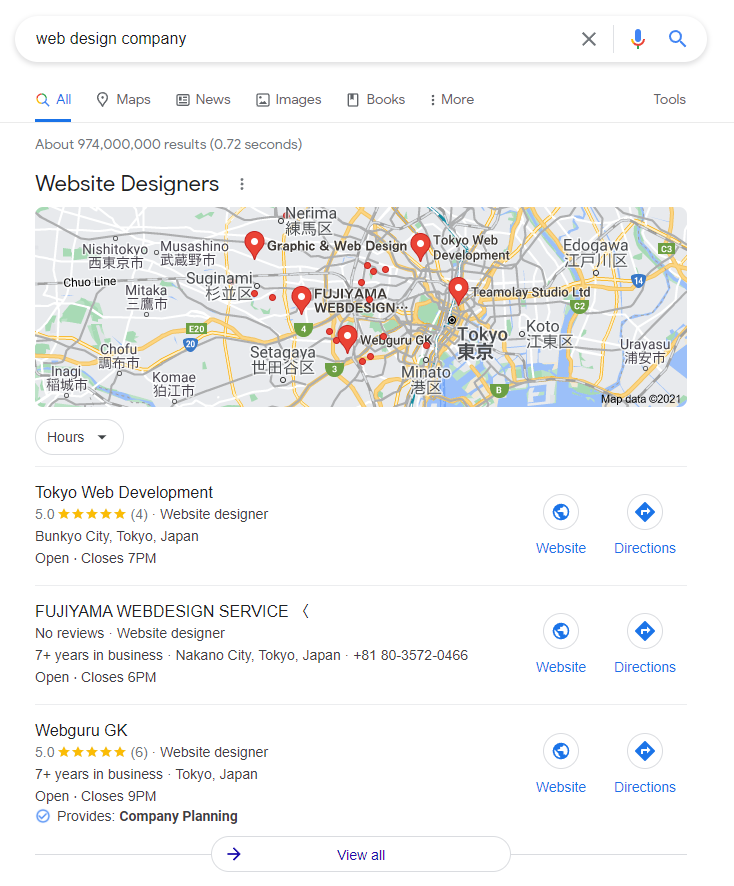 The reason why the search results differ depending on where you search is because Google wants to provide the user with the most convenient experience, and provide the exact information they're searching for right away. When a company in Tokyo is looking to outsource their website design, it does not make much sense if only web design companies in Hokkaido or Osaka appear at the top of the search results. On the other hand, it isn't very convenient for users if they have to enter "Tokyo web design company" to view businesses in their area.
Especially in the case of B2C, when customers are searching for a place to eat, a hospital, a salon, or a store nearby, they generally search on their smartphone and go straight from Google to launch Maps, so that they can immediately head to the location. To take advantage of this, it's important to follow a few techniques to make sure your business pops up in the top rankings on Google.
What is Google My Business?
Google My Business is a free tool that enables you to manage and optimize how your business shows up on Google Maps and Search. The screenshot below shows what a typical My Business profile might look like, with information like a one-line summary of the business, the address, hours, contact info, and reviews.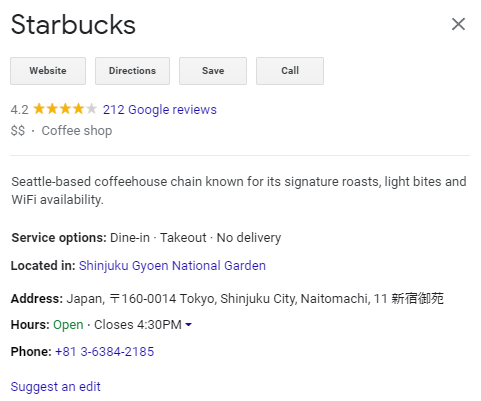 By creating a Google My Business account, you can make sure your customers always have the most-updated information at their fingertips. In addition, you're able to respond to customer reviews, so it also works as a platform for providing great customer service.
How to Optimize for Google Maps
1. Verify your business
By claiming your business on Google and verifying yourself as the owner, you will be the only person able to edit the business's profile. Learn how to verify your My Business account here.
2.Add relevant information in Google My Business
Aside from basic info like your address, phone number, and business hours, having a business introduction is also a critical factor in rankings. Try to add the following as well if possible:
Business website

URL to book an appointment

Add products and services with descriptions

Add high-quality photos (of the physical store, products, team, logo, etc.)
3. Choose categories and attributes
Categories tell Google what kind of business you are so that when someone searches up "hospital" or "car dealership," if your business fits in that category, it'll show up. Set a primary category that best describes your overall business, and then additional ones that are also relevant. Google gives the example: "if you manage a grocery store that includes a pharmacy and deli, choose "Grocery store" as your primary category, then add "Pharmacy" and "Deli" as additional categories."
Next, attributes refer to special services and amenities that a business offers, like accepted payment types, accessibility for people in wheelchairs, and if they offer outdoor seating. Attributes can also show if a business identifies as black-owned, women-led, or LGBT friendly. Choose the attributes that best reflect the qualities of your business.
4. Collect customer reviews
Reviews continue to be one of the most decisive factors in Google Maps rankings, but aside from SEO, customer reviews offer trustworthy opinions of a business and social proof that heavily impact a new customer's decision to buy from a specific place. According to the Local Consumer Review Survey in 2020, 82% of consumers check online reviews before making a purchase from a local business.
Note that Google doesn't just count the number of reviews you have, but fully takes into account whether the user left a comment along with the number of stars, the content of the comment, the average star rating, and the consistency of the reviews.
If you're just getting started and have little to no reviews, I suggest you start a customer review campaign, in which you offer a discount or freebie to anyone that leaves a review on your Google profile. Advertise this on your website with a link to the review page so that they can easily access it. You could also put up a QR code directly in your store, so that people can scan it and leave a quick review after visiting you. For example, restaurants often offer a free appetizer or drink if you add them on SNS or make a post on instagram - it's the same idea.
5. Build backlinks
To be ranked as an authoritative source in your field, you need lots of backlinks from other reliable websites. And in the case of Google Maps marketing, it's especially crucial to build local links by getting other businesses in your area to mention you on their website. Find businesses you're already working with and make a deal to make a testimonial of their services in exchange for a link, or co-write a piece of content.
6. Optimize your homepage
When you set your company website on your Google My Business profile, you're setting it as the landing page people see when they click on your business. This allows Google to evaluate the level of authority of the site, business category relevance, and see which keywords you're targeting. This is why you want to optimize certain elements on your homepage as well for the sake of Google Maps marketing.
For example, make sure to include your region or city in the title tag of your website. If you run a cram school, you could update your title tag (H1) to "Tokyo Cram School - University Exam Prep in Tokyo." Next, include the location in the website description as well, like "Top-quality cram school for university entrance exam prep, with schools in Shinjuku, Shibuya, and Ikebukuro in Tokyo." Also, you need to further prove that the business category is set through your web content, by utilizing tags, making keywords bold, and reusing keywords generously throughout blogs and webpages.
Speed Up the Process with Google Maps Ads
With the help of ads, you can actually pay for your business to show up at the top of the Google Maps search results. There are two main options to do so - standard PPC (pay-per-click) ads and promoted pins. PPC ads are the listings that appear at the top of the list with the label "Ad" underneath the business title. Meanwhile, promoted pins refer to the paid ads where your business will show up at the top the search results in a purple ad box, and a bright purple pin will pop up on the map where your business is. Note that promoted pins are only visible in mobile. However, the advantage is that they allow you to mention current campaigns and coupons to further persuade the customer to come by.
In Conclusion
In this article, I've mainly introduced Google Maps optimization as a method for businesses that have local stores for consumers, but this strategy can be useful for B2B businesses as well: customer reviews can serve as mini testimonials, Google makes it possible to check important data like route searches and URL clicks, and whenever you have to update your contact info or other information, you can do it easily with Google My Business to provide better customer service. Finally, as you have probably noticed, most of the steps to optimizing for Google Maps are really simple, so go ahead and try to improve your business's ranking by utilizing these basic tips.
Want to learn more about SEO? Check out these related articles:
How to Use Google Trends for Keyword Research
What is E-A-T and Why is it Important for SEO?