Using BowNow to organize customer data and improve the web interface. Good reaction to online business meeting from webinar|SmartScape Corporation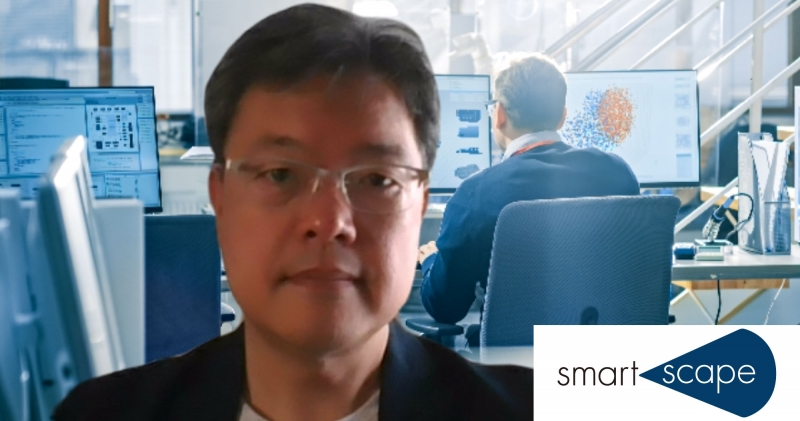 With BowNow, you can organize your existing customer data and make the most of new lists. Also manage multiple domains to deliver email newsletters and webinar information efficiently.
Mr. Eiichi Toyooka, General Manager, Digital Engineering Sales Department, Product Division, Smartscape Corporation

 
SmartScape Corporation
| | |
| --- | --- |
| Location | A-PLACE Shinagawa 8F, 1-8-40 Konan, Minato-ku, Tokyo |
| Business Activity | Research, development, commissioned development, and sales of information and communication related technologies, as well as consulting services using information and communication related technologies |
| URL | https://www.smartscape.co.jp/ |
Please introduce your company
Mr. Toyooka: SmartScape Corporation was established in 2003 and has a great deal of experience in application development using CAD/PLM and CG, mainly for the automotive and industrial machinery industries, and focuses on development and consulting to help improve the productivity of the Japanese manufacturing industry.

We are in charge of system development and solution development systems within Smart Holdings. The Product Division, to which I belong, is mainly engaged in sales and development of 3D visualization solutions. We sell our own products as well as products made overseas, and most of our clients are companies in the manufacturing and mechanical equipment industries.


【Challenges before implementation】To organize and manage existing lists and to unify web leads from the customer's perspective.
Why did you decide to implement MA?
Mr. Toyooka: The reason we decided to implement MA was because we wanted to organize lead information and send out accurate email newsletters.

In January 2021, the number of companies providing 3D PDF document creation software to communicate technical information that includes 3D models surpassed 3,000. Because of our low pricing, we were getting more and more customers, and even one company had several customer lists.

However, we were not able to manage the lead information we acquired through inquiries, nor were we able to track the behavior of the leads after sending out emails. When we wanted to do something about organizing and managing lead information, we came across BowNow, which is in a low price range and free to start with. We also wanted to create a system that would allow us to upsell our products with richer functions, and we wanted to introduce MA.
【Selection Points】Try BowNow for free to meet your price and functionality needs.
What was the deciding factor for you to use BowNow?
Mr. Toyooka: The deciding factor was the high cost performance. We had a good number of leads and inquiries to begin with, so we selected this product based on our objectives and cost effectiveness.

At first, we used the free plan, but it was not enough for our purposes, so we introduced it after receiving an explanation of what the paid plan could do. After actually using it, I was impressed with how well it works.

Before BowNow, we had been using other tools to send out emails, but we had some problems such as managing customer information other than sending emails, and exporting the number of people who accessed the site as CSV, but it was difficult to handle.

In contrast, BowNow was also good in that it was easy to practice account-based marketing. By using it for free, I was able to notice various advantages.
【Measures & Effects】More focus on email newsletters and webinar announcements, resulting in business negotiations and orders. Replaced download forms with BowNow to capture customer information efficiently.
What kind of measures are you currently using BowNow for?
Mr. Toyooka: We have migrated the e-mail newsletters and seminar information e-mails that were originally distributed by other tools to BowNow. We also replaced the document download form and inquiry form with BowNow to accumulate customer feedback.

We have sent out about 8,000 mail magazines using BowNow and other tools. We try to create titles that make customers want to click on them, and images that are eye catching.

With BowNow, we can see the history of what kind of e-mails we sent and the contents. We can also see the number of downloads and clicks on the BowNow dashboard, which makes it easy to share within the company. I think another advantage of BowNow is that its UI is easier to read and understand than other tools.

What specific results have you seen since you started your marketing efforts?

Mr. Toyooka: We have been getting good reactions to our webinars and mail magazines, and business negotiations and orders have been born from them. For example, the other day when we announced a webinar, we received 32 applications in one day. I have a feeling that people are reading my e-mails to a certain extent.

Also, when I migrated a part of my list to BowNow, people I had never known or talked to before started coming to the webinar. I have received emails and phone calls directly from those customers.

【Future Outlook】
What would you like to challenge in the future with BowNow and marketing initiatives?
Mr. Toyooka: I want to use BowNow and inside sales together to create a system to follow up on leads by attribution. Our customers are well-informed about our products, and everyone knows a lot about them.

In some cases, a small explanation can lead to a purchase, so we want to make sure that people handle the parts that need to be handled thoroughly. Ultimately, I want to understand my customers, adapt my products and services to their needs, and aim to sell my products naturally.


【Customer Voice】It's free to start with, and the updates after installation are also very impressive.
Do you have any expectations for BowNow and Mtame Corporation in the future?
Mr. Toyooka: I think it's the same with anything, but you can't understand a tool unless you try it. When you use them, you can confirm what you want to do by saying, "If I do it like this There may be hurdles such as budget and sales target to introduce the system, but it is no good if you are hesitant to do so."

In this respect, I liked the fact that BowNow was free to use at first. I also like the fact that the functions have been updated since it was first introduced. I feel that the functions have been improved since I started using it, such as the character limit when inserting text messages has been greatly reduced.


The AI-based similar shape search solution that we sell has also been successful for those who have tried it and those who have bought it and tried it. I think the same applies to MA tools.


Thank you very much!