Adopting a sales style adapted to the environment to improve efficiency|Sasaki Sellm Co.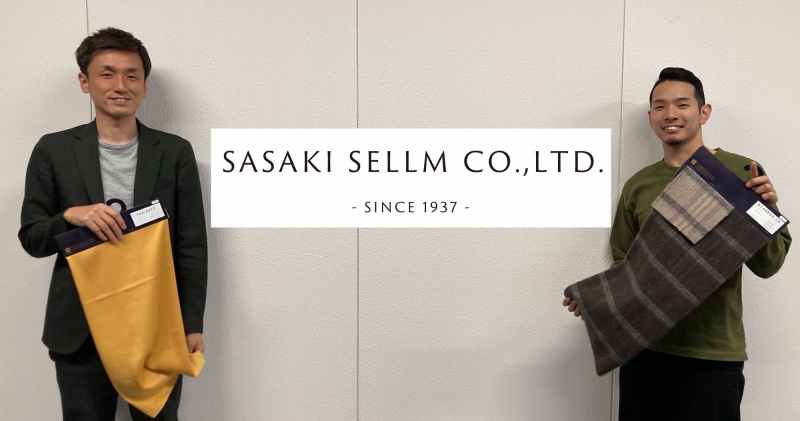 Sasaki Sellm Co.
| | |
| --- | --- |
| Location | 2-9-16, Sen-i, Ichinomiya-shi, Aichi |
| Business Activity | Wholesale of fabrics, planning and sales of accessories |
| URL | https://www.sasakisellm.co.jp/ |
Please introduce your company
Mr. Ohtsu: We are a company that wholesales fabrics to the B2B market. We have many of our original fabrics and fabrics that can only be purchased at our company, and we offer them at lower prices than other companies. Not only do we sell our fabrics, but we also plan how to make such patterns with such fabrics, and how to make such fabrics with such threads.

Recently, we have started to sell masks, eco-bags, and other small items using our fabrics to B2C customers through our mail-order site and our own store on the first floor of our building.


【Challenges before implementation】Sales style no longer fits the market.
Why did you decide to implement MA?
Mr. Sato: We have a traditional sales style where we visit clients directly to discuss business.
Since we deal with fabrics, many clients want to see the actual products. However, under the influence of COVID-19, the environment has changed to the idea of non-contact and online sales, and I have come to think that we need to change the way we do sales from now on.

At the same time, I also had the issue of how to make sales more efficient and increase sales. When I was thinking about marketing measures, I learned about MA tools and started to think about implementing them.
【Selection Points】Low-cost and seemed easy to use even for beginners.
What was the deciding factor for you to use BowNow?
Mr. Sato: At first, we were considering MA tools from other companies. However, we felt that the cost was too high and the usage was too complicated. So we were looking for a less expensive tool, and found BowNow.
When we actually talked to them, they suggested various ways to use MA tools, and we thought we should try it first.
The main deciding factor for us was the low cost. We looked into several other companies' tools, but there were almost none in the price range that we could easily try using. In this respect, BowNow was a great choice because the price was such that we could try it first and if it was good, we could continue using it.
Also, when we talked to them, the screen was simple and easy to read, and the functions were not complicated, so we felt that we could use it well.

Mr. Ohtsu: The fact that the person who helped us was very kind and accommodating was also a plus. They are very helpful in answering even the most trivial questions.


【Measures & Effects】Create a lead line from the newsletter to the website and request for information.
What kind of measures are you currently using BowNow for?
Mr. Ohtsu: We are in the process of importing the data of business cards collected at exhibitions and sales events. We also send out a weekly e-mail newsletter with a link to our website blog to those who we exchanged business cards with in the past but are now dormant customers.


What specific results have you seen since you started your marketing efforts?

Mr. Ohtsu: We have only sent out about four newsletters, so we don't have clear figures yet, but we have received sample requests from existing customers via e-mail. However, for new customers and dormant customers, the status has only changed to "apparent" and has not led to any concrete results, so we would like to find a way to do this in the future.

Mr. Sato: There are people who look at our website, so we would like to approach them.



【Future Outlook】Strengthen our approach system to achieve results.
What would you like to challenge in the future with BowNow and marketing initiatives?
Mr. Sato: We open a booth at an exhibition held in Tokyo every year, but we would like to hold our own online exhibition in the future. In order to do so, we would like to expand our website and come up with measures to connect paths for customers who visit our exhibitions.

To achieve this, I would like to strengthen our approach system. I would like to have a dedicated marketing person. At the moment, I'm working on several projects at once, and some of them are half-hearted. ...... I would like to strengthen the system and link it to proper results.


【Customer Voice】This is the perfect tool for beginners.
What you expect from BowNow and Mtame Corporation in the future, and if you have any message for other customers.
Mr. Sato: If more functions are added in the future, I think we will be able to do many more things, so I would be happy if the functions were expanded. If they are, I'd like to incorporate them into our measures.

Mr. Ohtsu: I think BowNow is perfect for people who are interested in MA tools but think they are too difficult or hard to use. The cost is low and the screen is simple and easy to understand, so it's the perfect tool for an introduction to MA.


Thank you very much!