Reform Awareness to fit the New Normal Business Environment|Nitto Boseki Co., Ltd

Reform Awareness to Fit the New Normal Business Environment
Ms. Sachie Sawada, Customer Solution Group, Product Planning Department, Product Planning & Development Division, Glass Fiber Division, Nitto Boseki Co.

 
Nitto Boseki Co., Ltd
| | |
| --- | --- |
| Location | 4-1, Kojimachi 2-chome, Chiyoda-ku, Tokyo |
| Business Activity | Fibers and textiles, fiberglass products, chemical products, manufacturing, processing and sale of pharmaceuticals, manufacturing and sale of soft drinks, etc. |
| URL | https://www.nittobo.co.jp/ |

Marketing initiatives that can be undertaken by COVID damages.
Please introduce your company
Ms. Sawada: We are mainly engaged in the manufacturing, processing and sale of various fibers and textile products, the manufacturing, processing and sale of glass fiber products, and the manufacturing, processing and sale of various chemical products and pharmaceuticals. Our three main businesses are the manufacturing, processing, and sale of various chemical industry products and pharmaceuticals.

Of these, I belong to the glass fiber business division and in charge of developing new markets through marketing. Our company started out as a fiber manufacturer, but after we developed Japan's first technology to process glass into a fiber thinner than a hair, the glass fiber business became our mainstay. Glass fiber is rarely seen, but it is used in automobiles, airplanes, roads, housing insulation, computers, smartphones, tennis rackets, etc., and our customers come from a wide range of industries. Our fiberglass is also used in the roof of Tokyo Dome.

There are other fiberglass manufacturers in Japan, but we are the only one that provides integrated services from manufacturing glass fiber to processing glass cloth and developing composite materials. We are also able to propose solutions that meet the needs of our customers.

In the pharmaceutical business, we mainly manufacture, process, and sell in vitro diagnostic pharmaceuticals. Thanks to your support, we will celebrate our 100th anniversary in 2023.
【Challenges before implementation】Make marketing activities more efficient, more digital!
What challenges did you face before implementing MA?
Ms. Sawada: In the glass fiber business, we started to focus on marketing in earnest around 2017. In this context, we first introduced SFA to accumulate information in the sales department.
However, with SFA alone, we could only manage information and could not cover marketing, so we decided to introduce MA in order to conduct marketing more efficiently and digitally.

In 2018, we exhibited at an exhibition for the first time and acquired a lot of business cards, but we couldn't keep up with the management. Therefore, we were also looking for a business card management feature.
【Selection Points】Create a foundation for data collection and increase the number of inquiries
What was the deciding factor for you to choose BowNow among the many MA tools available?
Mr. Sawada: Implementing a tool costs money, but since we had just launched our marketing department and didn't have the know-how yet, we wondered if we were really in a position to spend the money.

We chose BowNow because it is a simple tool that can be used without any knowledge, and it is easy to start using right away. We decided to introduce it because we wanted to try it first to determine whether our division needed MA or not.

What was the deciding factor for you to upgrade from the free plan to the paid plan?

Ms. Sawada: After using the free plan, we decided to start using MA in earnest. At that time, we discussed internally whether we should use BowNow's paid plan or switch to another company's MA, but BowNow provided us with extensive follow-up and advice not only on how to use the tool but also on marketing in general.

We often asked for advice from BowNow, so we chose the paid plan of BowNow based on the overall judgment of price, ease of use, and follow-up.


【Measures】Used to analyze online exhibitions and email newsletters
What kind of measures are you currently using BowNow for?
Ms. Sawada: We have been holding our own online exhibition since February 2021. While we have not participated in many exhibitions in the past, but after COVID-19 we prepared an online exhibition as an opportunity to let people know about our company.

We used BowNow to create those registration forms and survey forms and analyze the leads. The flow is as follows: we send the URL of the online exhibition to the customers we exchanged business cards with via e-mail newsletter, and we keep track of the customers who clicked on the URL and accessed the login screen.

Originally, there were contents that provided the know-how held by each sales representative, but the online exhibition is a consolidation of these contents. The content for the online exhibition was created in collaboration with the sales and technical departments, with the aim of conveying the "benefits from the customer's perspective.

In addition, in order to make use of business cards that have been lying dormant since they were acquired in the past, information on business cards acquired by the sales department or acquired at previous exhibitions are imported into BowNow, and the company is trying to uncover dormant customers by sending out mail magazines on a regular basis. The contents of the mail magazines are also designed from the customer's point of view so that they do not become self-indulgent.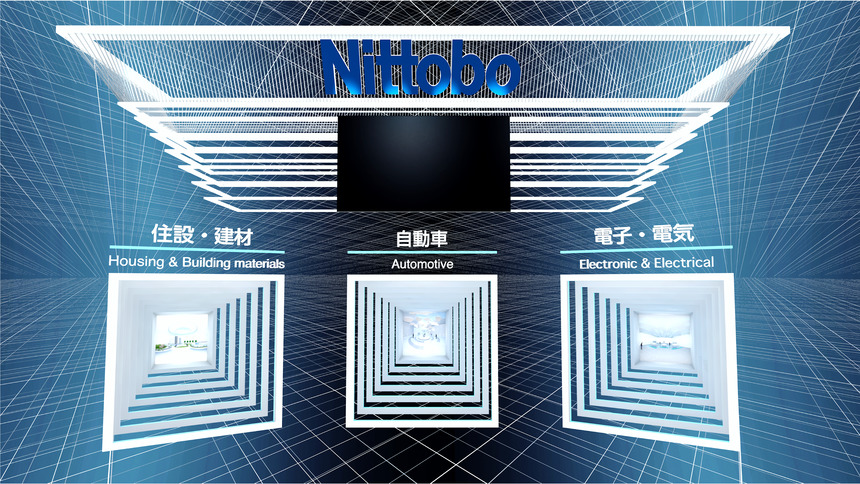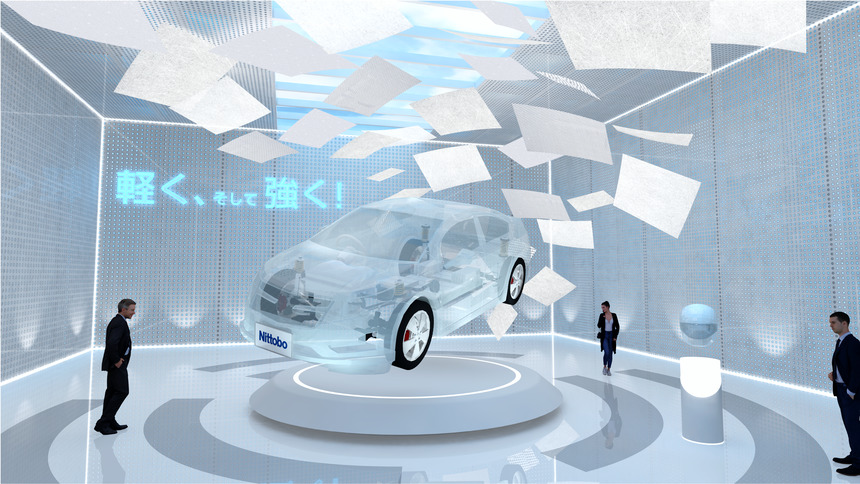 【Effects】 Enable to change my mindset to keep up with the new normal business environment.
What do you think about the effects?
Ms. Sawada: So far, 400 people have participated in the online exhibition, and we have received dozens of inquiries from them. Even if there were no inquiries, some of them went directly to our sales representatives, so I think the actual effect is much greater.

If we hadn't used BowNow, we wouldn't have been able to understand the effect of holding such an online exhibition because the KPI would have been only the number of business cards acquired. While we could not see any results that would lead to business negotiations or sales, being able to see the effects in numerical form was a big deal for the sales department and the entire division.

At offline exhibitions, we would collect business cards and that would be the end of it, but by using BowNow, I feel that we have become more aware of the importance of making the most of the business cards we acquire. In the past, business cards were often stored in the desks of individuals, so when people were transferred, their business cards would be moved along with them.

In addition, in the past, after collecting business cards at exhibitions, they were manually listed and prioritized for approach by looking at the company name and the interview sheet to gauge the temperature and then passed on to the sales department. As a result, there was no solid basis for the priority of approaches. Even the sales department who passed the information on to us had no specific information, so they just approached us because they were told to.

With the introduction of BowNow, when we pass business cards, we can now make a request for an approach with a rationale, such as "this customer has opened our mail magazine," and I feel that the temperature difference between the marketing and sales departments is being resolved.

Since this exhibition was only for customers with whom we have had contact in the past, I believe that we can expect a significant effect if we expand the exhibition to new customers through advertising, for example.


Have you implemented any improvements to your website?
Ms. Sawada: It is difficult for us to directly modify the website since it is not managed by each division but by the company, but we have received advice from Mtame regarding the website, so we hope to promote the effectiveness of BowNow to the entire company and change the marketing system on a company-wide basis.

At the moment, only members of the Customer Solutions Group have access to BowNow, but once it becomes more effective, I think the sales department will become more aware of the need to use BowNow, and I hope to distribute accounts at that time.

The Corona disaster has spread the new normal, and as a materials manufacturer, I think we have to catch up with the new environment. I think the most important thing for us is that we were able to raise awareness of the effects of introducing new tools and actually work on them.


Changing mindset is more difficult than achieving numerical results, isn't it?

Ms. Sawada: Yes. I also believe that by changing awareness, numerical results will follow. Little by little, we are actually seeing numerical results.



【Future Outlook】Create a line of communication from the marketing department to the sales department that leads to sales.
What would you like to challenge in the future with BowNow and marketing initiatives?
Ms. Sawada: First of all, we would like to consolidate more content and create an environment where everyone in the division can utilize it. Based on this, we would like to actively participate in exhibitions and hold seminars to increase our contact with customers.

On top of that, I think it is necessary to create a marketing system for the company as a whole, and I would like to pass leads from the marketing department to the sales department and create a line of communication that leads to sales from there.

I would also like to be able to provide products faster than anyone else with a sense of speed.


Finally, do you have any message for prospective customers or what do you expect from BowNow in the future?

Ms. Sawada: After actually using it, I felt that BowNow is an easy tool to start using to change the mindset of the company. It's a simple tool that is easy to use even if you don't have much knowledge about marketing or MA, and it allows you to grasp how your company is viewed from outside the company in numerical values.

In addition, Mtame has a good after-sales service, and you can get various advices from those who have a lot of experience and achievements in marketing.


Thank you very much!