Streamlining business negotiations by identifying the information customers want, resulting in 100 orders against a target of 60 | HOKUSEISHA Co.,Ltd.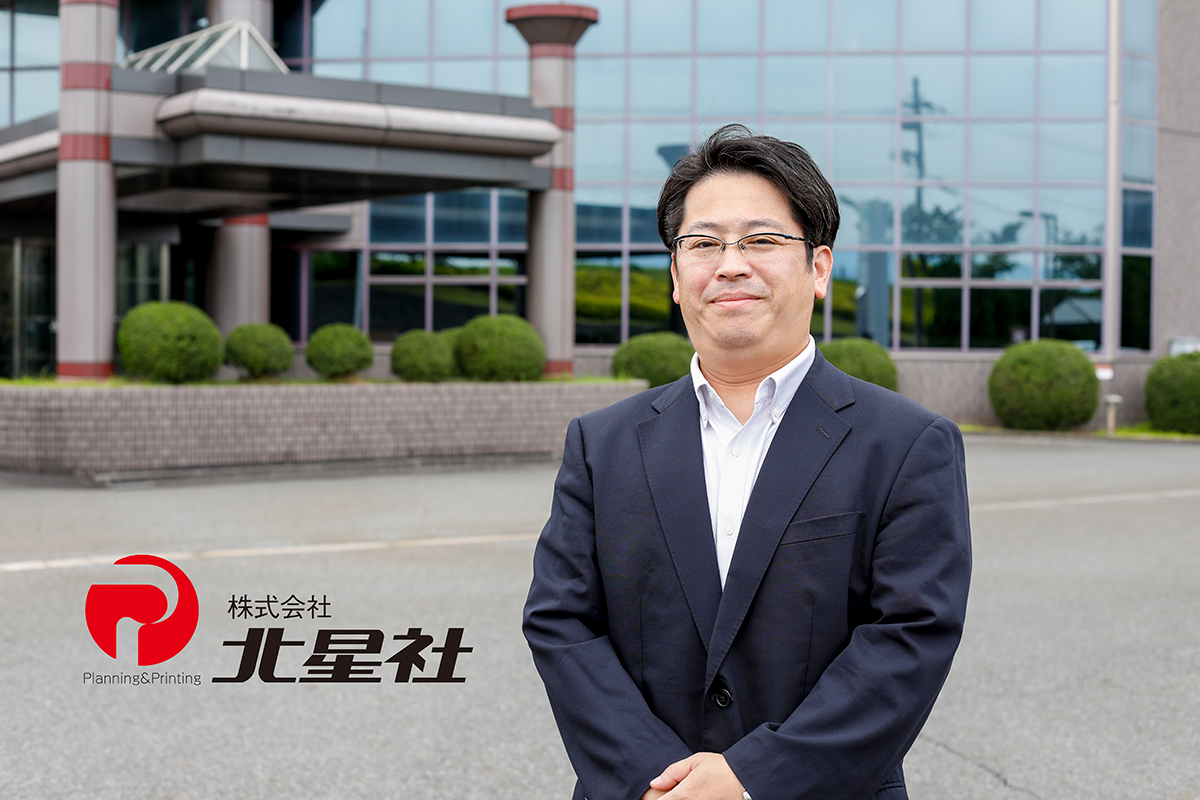 HOKUSEISHA Co.,Ltd..
Location
1620 Kamisano, Toyooka City, Hyogo Pref.
Business Activity

Printings (planning, design, photography, editing, plate-making, printing, bookbinding, processing, etc.)
Web design and website management, planning and production of publications

URL
https://www.robo.co.jp/
With BowNow's generous support, we are able to attract customers more efficiently at once. Online sales activities are also smooth under the pandemic.
Please introduce your company

Mr. Sakino: We are a comprehensive printing company that offers a one-stop service for planning, design, photography, editing, plate making and bookbinding related to printing. Our head office is in Toyooka, Hyogo Prefecture, and our factories are located in Sanda, Hyogo Prefecture, and Yorii-machi, Saitama Prefecture, and we are expanding our group business mainly in the Kansai region.

Our main printing service is offset printing using rotary presses, but we can also handle on-demand printing and printing of slightly larger lots. We also have 50 designers, and our strength lies in our ability to provide a one-stop service from pre-process consultation to delivery.

I mainly deal with paper printing, but we also print on acrylic, and recently we have been focusing on the production of novelties such as smartphone stands. We are also receiving inquiries from all over the country for our high quality printing and eco-friendly printing that no other company can offer.

The town of Toyooka, where our headquarters is located, is planning to restore an environment where storks can raise their young, and we continue to make company-wide efforts to be environmentally friendly, such as printing with as little waste liquid and carbon dioxide as possible.

As part of our efforts to create a sustainable society, we are also working to connect local companies with local high school students, and we tried implementing BowNow's digital marketing in this recruitment support service.


【Challenges before implementation】
Why did you decide to implement MA?
Mr. Sakino: The new corona epidemic made it impossible for our clients to attract customers through flyers and other means.
I am originally a commercial printing mainstay, and I am in charge of managing sales, but where paper used to be the main business, that was shrinking due to the current trend of paperless printing and the decline in the number of newspaper subscribers. We had been thinking about new business development, and the timing to put it into practice came quickly during Pandemic.

This time, we introduced BowNow as one of our new businesses.
We have a media that introduces local companies to local high school students, and we have been delivering the books to the high school students for free, while receiving fees from the companies that publish them.


However, during the Corona disaster, there were situations where students were unable to go to companies or schools, and we thought it would contribute to the community if local residents could get information online.
Then, when we were thinking about how to develop new customers, we came up with the idea of sending out a mail magazine, and furthermore, the idea of considering MA tools.
Looking back, if we hadn't introduced BowNow this time, we would have had to do everything from the top down, including telephone appointments and email distribution, completely by manpower. 


【Selection Points】BowNow's ease of use and support was a key factor. The low hurdle of introduction was a decisive factor.
What was the deciding factor for you to use BowNow?
Mr. Sakino: The key point was the low hurdle of implementation.
At BowNow, we first received an explanation of MA (Marketing Automation), which gave us an idea of how it can be used to develop our business.

We are using BowNow for the project I mentioned above, but actually, there is another department that is using another company's MA tool. However, I had the impression that it would be difficult to use it without a certain level of knowledge, such as looking at the interface. I was hesitant to introduce this tool because I thought that I would rather use manpower than use this tool.

That's why we chose BowNow, which is intuitive, easy to use, and with the support and encouragement of the person in charge, we felt that the hurdle to implementation was low.



【Measures & Effects】Focus on list management and email newsletter distribution. Visualize customer information to optimize approaches and increase the rate of business negotiations.
What kind of measures are you currently using BowNow for?
Mr. Sakino: We mainly use BowNow to manage our list of leads and send out email newsletters.
We also use BowNow's forms to exchange data with companies on the web, and the dashboard is used to share information within the company.

There are about five salespeople involved in the project using BowNow, and each of them used to have their own list of customers, which they managed separately.

After BowNow was introduced, we were able to import those lists into BowNow and tag and link them. We then decided to send out more and more online seminars and mail magazines to the tagged leads.
However, since customers would not respond well to a quick sales campaign with a free listing, we decided to provide useful information in the form of a mail magazine and lead them to the online seminar.
We use BowNow's forms to automate the input of information for the mail magazine distribution, so we have been able to streamline the process considerably.

As for new business development, we used to have a hard time getting through to the person in charge when we tried to call customers who had posted a free newsletter, and the rate of business negotiations was low. With BowNow, we can "visualize" the status of our customers on the dashboard, and the sharing of information within the company and the exchange of appointments over the phone has become smoother, so I think the stress on our sales staff has decreased.


What specific results have you seen since you started your marketing efforts?


Mr. Sakino: We have been able to receive orders very efficiently from customers who have posted their products for free.
At first, we thought we would only need 5 to 60 prospective customers by June of this year, but at this point, we have over 100 customers. We are seeing tangible results from the Corona disaster.

One of the most important factors is that it is now easier for us to identify the customers who need our products.
However, with BowNow, we know to a certain extent which customers want which information from the log of the document download page, and we can change the contents of the mail magazines and even the content of the business negotiations based on that. You can change the contents of the newsletter and even the content of the business meeting.

We can greatly improve the efficiency of both the content of the business meeting and the approach to the business meeting, and I think this is changing the mindset of salespeople.

【Future Outlook】What would you like to challenge in the future with BowNow and marketing initiatives?
Mr. Sakino: We would like to expand horizontally from the free version to the paid version, and then to our core business of printing. We are currently at the stage where we are trying to gather a lot of customers for the free version of BowNow, but we need to think of measures that will lead them to the paid version. And the biggest thing is how we can expand it horizontally to printing, our core business. I would like to start thinking about this in detail in the second half of this year.

In terms of acquiring clients in the printing field, I think we will get a better response from customers if we practice MA with BowNow and focus on the products we sell and the targets.
We would like to make good use of the strength of our 50 or so creative staff, and we would also like to differentiate ourselves from other companies in our approach to environmental friendliness.

In the first place, printing is a spot business where sales are made by delivering products, and it is difficult to make continuous sales.
I am vaguely aware that if we can use this opportunity to come up with various services and put them into practice, and if the awareness of our employees changes through BowNow, we will be able to create something that will generate new sales.


【Customer Voice】The support and encouragement of the BowNow staff helped us to clarify our goals in scheduling.

What do you expect from BowNow and Cloud Circus Inc. in the future?
Mr. Sakino: We are very satisfied with BowNow, and we are considering upgrading from our current plan to BowNow for other projects.
When I look back on the implementation of BowNow, I can honestly say that the person who was assigned to our company did a good job in leading us. There are several other members of the project team in our company, and he was able to organize the project very well.
They set some deadlines, such as "Let's have a meeting on what day next week, and let's do this by then," so I could clearly see what needed to be done. Without such support, I think I would have ended up wondering what I should do.

On the digital side as well, I am very grateful for the quick and easy setup and the kind and specific advice.
In an atmosphere where we tend to use Corona as an excuse in our sales activities, I think the BowNow representative was able to pull us through.

Can you to give a message to those who are considering to introduce BowNow?

Mr. Sakino: First of all, my impression is that the BowNow system is easy to use. It is intuitive and easy to understand, and can be used easily by both young and old people. If you have any doubts, I think there is no harm in trying it out.
Another thing is that the introduction support staff is very helpful and gives friendly advice. I also felt that they researched our company much better than other consultants.

In addition, the online seminars and materials are well organized, so even if I can't attend the meetings in time, I can learn about MA in my free time at my own pace. I also like the fact that they provide such opportunities.
I highly recommend it to anyone who is considering the introduction of MA tools.


Thank you very much!