Rapid shift to digital marketing with the Corona disaster, realizing efficient online customer attraction with MA tools|AR Advanced Technology Co.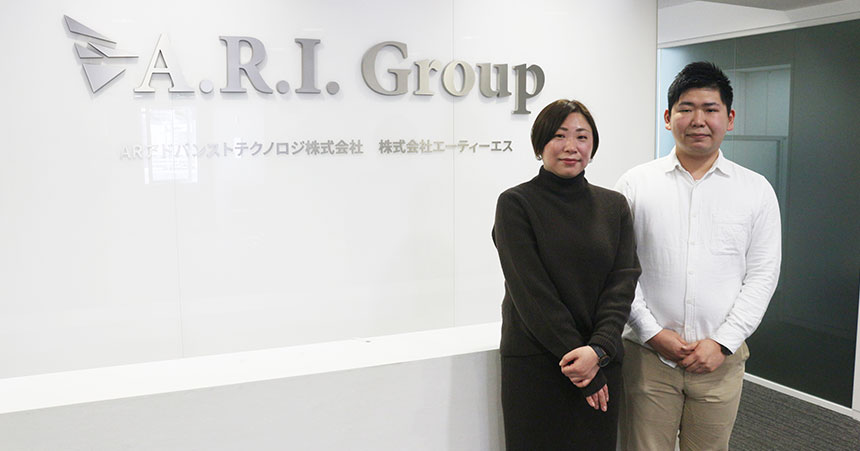 Yumiko Miyashita and Ryutaro Iwai, Product Marketing Section, Cloud AI Department

BowNow, a simple and reasonable MA tool, makes full use of the house list.
The number of inquiries increased by about 10 times through online seminars.

AR advanced technology, Inc.
| | |
| --- | --- |
| Location | Shibuya Nomura Securities Building 8F, 1-14-16 Shibuya, Shibuya-ku, Tokyo (Shibuya Head Office) |
| Business Activity | Digitization service business using cloud technology, data and AI |
| URL | https://ari-jp.com |
Please introduce your company
Ms. Miyashita: We are a SIer that focuses on cloud computing, AWS, Azure, and other so-called infrastructure.
We provide consulting and solution service business focusing on cloud computing technologies such as AWS and Azure, and also sell our own products such as AI chatbots and file server visualization tools.
We have two pillars of business: infrastructure and applications, and products, with SI being the stronger parent company. We want to focus on products in the future, and our marketing efforts are now focused on products.

As for the industries of our customers, our products have been implemented in a fairly wide range of industries, so it is difficult to say which industries are the most common. Chatbots are mostly used by major companies, while other products are purchased by companies of various sizes.
However, as a trend, I feel that customers who want to focus on DX and who recognize the transformation period of DX often purchase our products and services.

For companies that are interested in DX and are aware of the issues but have not yet taken concrete action, I often propose comprehensive DX solutions using SI and our services.

I'm mainly in charge of product marketing. The marketing department is led by myself and Iwai.

 
【Challenges before implementation】COVID-19 accelerates the need to focus on digital marketing
What challenges did you face before implementing MA?
Ms. Miyashita: We originally wanted to focus on digital marketing and inside sales in B2B, but COVID-19 required us to make a rapid shift.

In terms of advertising methods, we had originally been placing advertisements at offline events, but due to the effects of COVID-19, the events themselves were cancelled one after another, and we had to figure out how to deal with this.

The expansion of the Corona disaster coincided with a time when we were aware of the issues that we needed to focus with digital marketing. Its good to utilize MA tools to execute more smoothly, which led us to rapidly promote digital marketing measures, including the introduction of BowNow. In addition to the above, we have been working on the implementation of BowNow.
【Selection Points】The simplicity, affordability, and ease of consultation were also deciding factors in the selection process.
What was the deciding factor for you to choose BowNow among the many MA tools available?
Ms. Miyashita: As we shifted our focus to digital marketing at Corona Sins, we moved inside sales, which was originally set for a much later phase, much further forward. We were in a situation where we just had to move forward with inside sales.

With other companies' MA tools, we had to start by creating personas and scenarios, which was rather inconvenient for our current situation, and we were concerned that we would not be able to fully use the functions.

Before the introduction of BowNow, we had already decided on the axis of conducting online seminars, but after the introduction of BowNow, we were able to consult with the person in charge, which made it easier for us to visualize our online seminar policy.


【Measures & Effects】BowNow is used to announce seminars and provide materials. The number of inquiries increased tenfold.
What kind of measures are you currently using BowNow for?
Ms. Miyashita: After the introduction of BowNow, the first thing we did was to announce the online seminar and to publish a white paper on the website with product know-how materials.

The first step was to send out an email invitation to attract people to the online seminar, and we also used BowNow to visualize the customer data that came in from Facebook and Google ads.

We had already been using customer data in real events with different teams, but this was the first time for us to use house lists from online seminars.


What specific results have you seen since you started your marketing efforts?
Ms. Miyashita: Compared to the measures taken before using BowNow, the number of inquiries has increased nearly tenfold. From those, the number of effective leads for the apparent layer has also increased.

This was in the phase before BowNow was introduced, but I think the major factor was that we were able to review the KPI settings so that we could appeal to more potential customers and properly deliver information to those who have a high level of need and interest.

Specifically, we planned online seminars that we thought would be in demand. Our own seminars are held once a month, with 2 to 30 participants each time, and sometimes more.
Since we had newly launched plans and options, I think we were able to properly deliver such new product information to those who needed to acquire it.

We went through a trial and error process over a period of two to three months using online seminars and house lists as the pillars, and using BowNow we can directly see which customers have what needs and what kind of email newsletters resonate with whom, which makes it easy to develop measures.

Since we have only been using BowNow for about two months, we cannot verify the effectiveness of the system, but we already have a certain number of what we can call hot leads, and we are using the alert function of BowNow to determine the priority of our approaches and to consider the timing of our sales passes.
【Future Outlook】Using BowNow to Visualize the Order Process and Email Magazine Policy, with a View to Company-Wide Implementation
What would you like to challenge in the future with BowNow and marketing initiatives?
Ms. Miyashita: In the future, we would like to provide a wide range of content such as online seminars and know-how materials that meet the needs of our customers, and through BowNow we would like to let our customers know that we can help them when they need it, rather than imposing our services unilaterally. We would like to develop measures to let our customers know that we can help them when they need.

We have only been using BowNow for about two months, but we will continue to go through a trial and error process to see how we can track leads and visualize the process of receiving orders.

This time, we introduced BowNow from the product base on a trial basis, but in the future, we would like to expand it to the entire company and to the so-called SI services as well.


【Customer's Voice】Easy to understand operation and a price range that allows you to work on it like a test are appealing.
What do you expect from BowNow in the future and what do you think of Mtame's proposal?
Mr. Iwai: I often operate BowNow, and it is very easy to understand in terms of actual operation. In a good way, I think there are no unnecessary functions. I appreciate the fact that basic things can be done in a basic way and the results can be seen immediately.
For example, when I send out an email, I can see which emails are reaching where, whether they are being opened, and whether they are being abandoned. It's easy to extract the ones that didn't go well and make a list of them. It is easy to make improvements such as "next time, let's send out e-mails in this way," and it is very easy to understand in terms of actual operation.

Ms. Miyashita: I'm more on the side of planning, but I think the appeal of BowNow is its price range, which allows us to work on it as if it were a test.
"Should we add an MA tool? I think the price range of 20,000 to 30,000 yen per month is very easy for customers who are in a situation where they are thinking, "I need to do inside sales".

While many companies have difficulty making capital investments due to the Corona disaster, I think the price range is such that they can immediately give it a try.

Thank you very much!